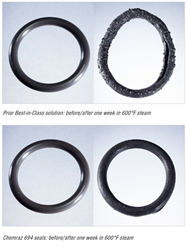 Houston, TX (PRWEB) April 09, 2015
Greene, Tweed has announced the launch of Chemraz® 694, a perfluoroelastomer designed for exceptional chemical resistance and best-in-class performance in high temperature water and saturated steam environments, including Steam Assisted Gravity Drainage (SAG-D) and other enhanced oil recovery (EOR) applications requiring steam injection. In addition, Chemraz 694 can be utilized in Oilfield applications where sustained high temperature heat resistance is required.
With the increased use of steam injection as an EOR technique in maturing, as well as heavy oil fields, Greene, Tweed has responded to market demand for reliable and extended downhole service life capacity for sealing materials for that environment.
Greene, Tweed undertook a stringent process to develop an FFKM which would retain its physical properties in a steam environment, thus meeting customer requirements for a more reliable sealing solution.
Chemraz 694 outperformed competitor materials after an extended time at 500°F (260°C) in steam and short term exposure to a peak excursion at 600°F (316°C). Other comprehensive testing regimes carried out under a variety of conditions have shown Chemraz 694 to be the "go-to" solution for critical steam environments.
Chemraz 694 delivers the same exceptional chemical resistance as Greene, Tweed's other market-leading compounds, along with a wide temperature range of 10°F to 600°F (-12°C to 316°C). This new material also provides excellent compression set and thermal shock resistance, allowing our materials to be utilized across many industry applications.
Chemraz 694 is available in O-ring, Vee ring, G-T® ring and custom elastomeric configurations.
Greene, Tweed leverages expertise in a variety of markets and products to give customers the most innovative solutions to meet performance challenges and reduce total cost of operation. With fully qualified engineering, sales and support personnel located throughout the Americas, Europe and Asia, Greene, Tweed delivers solutions to individual customer applications on a global scope. Greene, Tweed products are sold and distributed worldwide. For additional information, contact Greene, Tweed at +1.215.256.9521 or visit our website at http://www.gtweed.com.