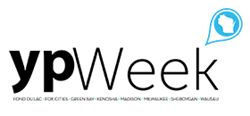 "YPWeek Wisconsin establishes a framework for existing and emerging young professionals throughout the state to collaborate and brand Wisconsin as a workplace destination for all Millennials," explains Angela Damiani, president of NEWaukee
Madison, Wis. (PRWEB) April 09, 2015
Unlike most young professional events throughout the U.S., Wisconsin is bringing together all of its young professional organizations to celebrate the first annual statewide Young Professionals Week (YPWeek), April 11-18.
YPWeek seeks to connect Wisconsin's young employees through a host of activities – more than 90 events at various cities across the state, including cooking demos, art tours, speed networking and yoga, along with keynotes from speakers like former MLB Commissioner Bud Selig and Victoria Rogers of Kickstarter.
"YPWeek Wisconsin establishes a framework for existing and emerging young professionals throughout the state to collaborate and brand Wisconsin as a workplace destination for all Millennials," explains Angela Damiani, president of NEWaukee – YPWeek's founding organization. "The excitement that is mounting with cities across the state coming aboard, and the willingness to work towards a single goal, proves that folks are hungry and ready for this type of platform. Wisconsin only stands to gain with this united front."
The week's activities engage the millennial workforce in experiences that are important to young professionals, while educating their employers on the important role these functions play in retaining their workforce. Workshops include learning "Entrepreneurship 101" with representatives from the Milwaukee Bucks, RentCollege Pads and a panel of successful speakers teaching "40 ideas in 40 minutes to Kickstart Your Career" and more.
"Having accomplished individuals like Wisconsin native Bud Selig speak with young professionals about creating their own legacy will help spark the creativity and innovation they need to succeed in the current job market, especially here in Wisconsin," said Tricia Braun, deputy secretary and COO of the Wisconsin Economic Development Corporation (WEDC) – one of the event's main sponsors.
The diverse lineup of events uniquely highlights each city and the organizations that currently exist for young professionals to engage in their hometown. To view the full line-up of events, please visit: http://www.ypweek.com. Program highlights include:

Bubbler Awards in Wausau: An award ceremony recognizing the best places to work in Wisconsin as a young professional.
Speaker Crawl in Milwaukee: Ted-talk style presentations by local leaders such as Bud Selig and Rich Meeusen, president and CEO of Badger Meter.
The Artery in Appleton: Music, mischief & art will fuel the Fox Cities first urban market.
Keynote Presentation by Rebecca Ryan in Madison: A presentation by nationally renowned Millennial expert.
Blood Drive in Madison: A weeklong call to action for young professionals to donate.
Envision Fond du Lac in Fond du Lac: A feedback session for young professionals to have input on the city's future.
Career Kickstarter in Kenosha: A professional development panel forum featuring both established and up-and-coming community leaders.
Be a Super Hero in Your Community in Green Bay: The finale for YPWeek that encourages civic and non-profit engagement.
Breakfast with the Big Cheese in Sheboygan: A morning presentation with Louie Gentine, CEO of Sargento Foods, Inc.
###
About the Wisconsin Economic Development Corporation
The Wisconsin Economic Development Corporation (WEDC) leads economic development efforts for the state by advancing Wisconsin's business climate. WEDC nurtures business growth and job creation by providing resources, technical support and financial assistance to companies, partners and communities in Wisconsin. WEDC has four focus areas: business and industry development, economic and community development, entrepreneurship and innovation and international business development. Together with more than 600 regional and local business development partners, it represents a highly responsive and coordinated network. Visit http://www.inwisconsin.com or follow WEDC on Twitter @_InWisconsin to learn more.
About NEWaukee
NEWaukee is a social architecture firm that specializes in organizing Milwaukee's young professional community around high-profile issues of importance to this key demographic audience. NEWaukee also provides talent attraction, engagement and retention services to major Milwaukee employers looking to attract and retain young professional talent necessary to grow their businesses. Visit http://www.newaukee.com to learn more.