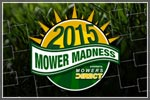 You can never underestimate the power of a last minute rally.
(PRWEB) April 09, 2015
In a hotly contested match up, Gravely narrowly squeaked by Honda 52% to 48% in the final round of Mower Madness 2015 to become back-to-back champions.
The Mower Madness Tournament started, like last year, with 64 lawn mower brands. Bracketology was again used to pit brands against one another, but this year, the seeding was determined by a random draw.
"There were some close calls and tough match-ups this year but the Gravely fans, again, showed up to play," said Dan Ariens, Ariens Company CEO and manufacturer of the Gravely brand.
"You can never underestimate the power of a last minute rally. This title should help to raise our spirits a bit here in Wisconsin when we bring the prize back home."
Some manufacturers, like No. 7-seeded John Deere, could rely on customer loyalty and brand awareness. However, as the tournament drew closer to the end, social media outreach and internal rallying of employees proved to make or break remaining brands. This is something that Gravely has excelled at.
While upsets were commonplace in the first annual Mower Madness, there were very few this time around.
"More manufacturers participated this year, so bigger brands weren't being leapfrogged so easily. Our Dealer Ads and Preferred Placement programs empowered them to gain exposure and better manage their online reputation," said Jon Hoch, Founder of Power Equipment Direct. "These programs do great things for manufacturers. Online reputation is huge. These days, everyone looks online before making a major power equipment purchase, and Power Equipment Direct is the place they look."
Gravely's social media outreach played a major part in their success in last year's tournament, and again in this year's. Their competition wasn't light, especially in the later rounds. In Round 4, they faced off against a very strong and popular brand - Kubota. And in Round 5, they had to go against Bob-Cat, who beat John Deere 54-46 in the previous round. There, Gravely just barely squeaked by with 51% of the votes to face off against Honda in the final round where they won 52-48.
Ironically, Gravely doesn't sell their lawn mowers online. Instead, they drive traffic directly to their local dealers through Power Equipment Direct's Dealer Ads Program. Gravely also participates in Power Equipment Direct's Preferred Placement Program, helping to achieve better rankings on Mowers Direct, which gains them more exposure, recognition, and brand awareness.
As the second annual tournament gained more popularity than the first, MowersDirect.com will be continuing the tradition of Mower Madness again in 2016.