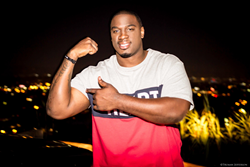 go after your dreams, even when the first step is unknown and scary
Los Angeles, CA (PRWEB) April 09, 2015
Donovan W. Carter, a former UCLA defensive lineman has a great reason to go to Disneyland and it has nothing to do with his athletic pursuits – well sort of. He will be one of the stars on the new HBO series Ballers, which explores the lives of several pro football players, their families, friends, and handlers. Executive produced by Dwayne 'the Rock' Johnson and Mark Wahlberg, Ballers premieres on HBO in June 2015.
Carter portrays Vernon, an introverted, family-oriented player who has been thrust into a world of celebrity and wealth. Carter's own journey mirrors Vernon's in many ways, from their humble beginnings, to rigorous tryout processes and ultimately to achieving unbelievable goals – all with the love and support of their families.
Carter's excellence in football allowed for a full-ride scholarship to UCLA. It is with the help of his former coaches that Donovan was able to gain exposure to some commercial roles and ultimately to his successful audition for Ballers. His advice to other young visionaries is "go after your dreams, even when the first step is unknown and scary."
Carter stars on Ballers with executive producer Johnson and a talented cast from all walks of life. Wahlberg's manager, Steve Levinson, created the show and executive produces with Johnson, Wahlberg, Evan Reilly, Dany Garcia and Peter Berg.
For additional information on Donovan W. Carter please contact Keith L. Underwood of UMA Worldwide at 310.995.3010 or via email keith(at)umaworldwide(dot)com.