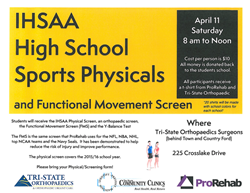 'Informing these students and their parents of the risks they face allows to follow up with proper treatment plans to keep them healthy throughout the course of the school year.' - Pat Wempe
Evansville, IN (PRWEB) April 08, 2015
ProRehab and Tri-State Orthopaedic Surgeons (TSOS) are proud to announce they have partnered again to help make local high school sports safer by performing sports physicals and testing for local student-athletes on Saturday, April 11 at the 2015 High School sports physical day and fundraising event alongside professionals from Tri-State Community Clinics.
Physicals will be performed from 8:00AM to 12:00PM at Tri-State Orthopaedics, located at 225 Crosslake Drive behind Town and Country Ford. Funds from the physicals, which are $10 per athlete and are valid for the 2015/2016 school year, go directly back to the athlete's respective school.
ProRehab Physical and Occupational Therapists will donate their time to perform functional movement screens (FMS) and Y-Balance Tests, which help young athletes understand why injuries occur and how to help prevent these injuries from happening. Functional Movement Screens determine how well a person moves and identifies hidden weaknesses before they affect performance or turn into injury. Similarly, Y-Balance tests assess the risk of injury by quickly and easily testing students balance. Tri-State Orthopaedics' physicians and Tri-State Community Clinics' providers will be performing the IHSAA physical screens.
"Over the years, Functional Movement Screens and Y-Balance tests have allowed us to identify a number of students who were at a heightened risk for injury," says Dr. Pat Wempe, PT, DPT, SCS, CSCS, owner of ProRehab. "Informing these students and their parents of the risks they face allows to follow up with proper treatment plans to keep them healthy throughout the course of the school year. We're grateful for the continued opportunity to connect with student athletes in the community and give back to these schools."
ProRehab Physical and Occupational Therapists and Certified Athletic Trainers are the Best First Choice® for injury prevention, performance enhancement, and treatment of musculoskeletal conditions for student athletes and their families in the tri-state area. For more information about ProRehab or to book an appointment with one of our expert therapists, please visit http://www.ProRehab-PC.com or call 812.476.0409.
About ProRehab:
ProRehab is a private physical therapy practice with locations in Evansville, southwest Indiana, and western Kentucky. Known for teaching and training physical therapists throughout the region, ProRehab physical therapists are proud that patients ask their doctors to send them to ProRehab for orthopaedic care. They deliver hands-on physical and occupational therapy based on the newest research to achieve the best results for patients with bad backs, achy joints, wounded hands, and sports and work injuries. Find ProRehab on Facebook, @ProRehab on Twitter, and FourSquare.
About Tri-State Orthopaedic Surgeons:
Tri-State Orthopaedic Surgeons, Inc. founded in 1949 by Dr. John H. Stern and Dr. Henry Leibundguth is the largest orthopaedic practice in the Evansville area. Our 19 physicians are specialized in general orthopaedics, joint replacement, sports medicine, spine care, hand and upper extremity, podiatry, trauma, and physical medicine and rehabilitation. For more information or to schedule an appointment, call 812-477-1558 or go to our website at tristate-ortho.com.
###