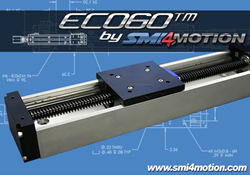 The ECO60 is a low cost US made Linear Actuator built for tough industrial applications where harsh, wet and dirty environments are considered standard.
Corona, CA (PRWEB) April 15, 2015
The ECO60 from Specialty Motions, Inc. is a low cost US made Linear Actuator built for tough industrial applications where harsh, wet and dirty environments are considered standard. iglide™ bearing materials from Igus™ are encapsulated in an adjustable carriage for precise and custom fit and feel sliding on precision ground aluminum shafting Hardcoat plated for optimal wear, excellent coefficient of friction and predicable life. More Info
.
The ECO60 Linear Actuator was built to satisfy seven major objectives;
1. Be a low cost US option to the Asian linear actuator models.
2. Offer excellent load capacity, smooth operation, and predictable life.
3. Be a solution for harsh, wet applications as a standard product
4. Offer an adjustable carriage to provide for a customize fit and wear compensation
5. Offer a repair kits for quick, easy rebuild when necessary
6. Offer lead screw pitch options for customizing to application speed and travel needs
7. Be Readily available for immediate delivery
Product Description
Size for size, the ECO60 fits the Asian Linear Actuator model being 60mm wide and 33mm tall. That's where the similarities end. The ECO60 with a pre-loadable carriage top can be adjusted to suit your needs. Find the perfect balance between snug fit and smooth linear motion. As the sliding elements wear, make adjustments to correct until they are worn out and then replace them with our SMI ECO60 repair kits.
Harsh Environment Ready
This Hardcoat shafting combined with the iglide linear sliding elements from Igus makes the ECO60 ideal for harsh or wet conditions including diluted lyes, weak acids, cleaning agents used in wash down applications, Alcohol, hydrocarbons, grease and oils with additives, fuels and strong alkalizes.
For added corrosion protection and durability, the ECO60 Lead screw is stainless steel, drive nut is a pre-loaded resin for reduced backlash, end support bearings are all stainless steel, motor coupler is wire cut, stainless steel making the ECO60 ideal for wet, harsh environments.
Durable Design
The ECO60 is made to be tough and durable. The Base, end plates and top carriage are all made from 6061T6 aluminum and machined to have all surfaces and planes be within .002". These aluminum surfaces are then anodized for strength and durability.
The SMI Hardcoat shafting is then machined to a custom configuration and length and is matched to the machined base. The rails are then snapped into perfect place insuring precision alignment to all surfaces.
The ECO60 Carriage
The ECO60 carriage is made from aluminum billet with all surfaces machined to allow for correct contact and conformity between iglide elements and Hardcoat shafting to allow for smooth, efficient linear motion. Carriages are then anodized to SMI standards and Helicoils threaded inserts are inserted into the carriage pre-load adjusting screw for durability and strength.
The iglide linear elements sit in specially machined notches to maintain alignment and make assembly simple.
With sliding elements such as in the ECO60, being used in a variety of applications, some bearings will wear more rapidly than others. However, that is not a problem. As the ECO60 wears, simply re-adjust the carriage pre-load to get whatever feel or snugness you are trying to achieve. If the sliding element becomes too worn that too is fixable.
The ECO60 Repair Kit
SMI Offers a repair kit which includes all stainless steel end support bearings, lead screw nut, iglide sliding elements, stainless steel motor coupler, complete instructions and a lubrication pen. Within minutes you will be back up and running and fully functional.
To view more Linear Actuator solutions form Specialty Motions, Inc., visit our Actuator link
Company Information:
Specialty Motions, Inc., (SMI), located in Southern California, has been creating and developing motion control and automation devices, components and systems under the SMI and smi4motion.com brand since 1990. With 25 years of business under the same management in this tough competitive industry speaks volumes regarding quality, craftsmanship and the ability to deliver solutions.
Contact SMI at Engineering@smi4motion.com with any technical questions, sales(at)smi4motion(dot)com with any questions regarding pricing for the New ECO60 or any of the many other forms of Linear Actuators.
Contact Specialty Motions, Inc. at 800-283-3411 for answers to your linear actuator applications.