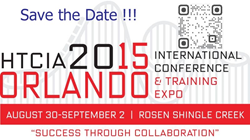 An International Conference in Orlando, Florida that brings together Cyber attendees from around the globe !
Roseville, CA (PRWEB) April 09, 2015
Cyber security and high tech crime has become one of the fastest growing crimes worldwide. One organization dedicated to the discovery and prosecution of these crimes is the High Technology Crime Investigation Association (HTCIA). This year, HTCIA will be holding its 29th Annual International Conference & Training Expo for the first-time ever in Orlando, Florida - August 30 through September 2, 2015 at the Rosen Shingle Creek Hotel. The event offers extensive education including over 100 lectures and labs, exceptional keynote presentations and a vendor expo with the latest in detection tools; and small-group networking opportunities for members, non-members, students and academia.
Peter Morin, HTCIA 1st Vice President and Conference Chair, explained: "While it is still early and we are still adding to the program, new this year to the conference is the addition of the Symantec Cyber Readiness Challenge (https://www.symantec.com/page.jsp?id=cyber-readiness-challenge), affording an opportunity to attendees to sharpen skills, learn and try new techniques and win prizes. In addition, two outstanding keynote speakers and training classes wil be presented by some of the top instructors and companies in the industry. We are offering outstanding value for an attendees' training dollar by including continental breakfast, lunch and evening activities that include food. I am proud to continue the HTCIA tradition of providing quality training at an affordable price."
Tom Millar, Chief of Communications (US-CERT) will be delivering a lecture on the history of the Cybersecurity Incident Response Team (CIRT) and will explore where their common practices came from and how they have changed. Howard Schmidt, former Cyber Security Czar for the Bush and Obama administration will be a keynote presenter. Also featured is the founder of the Red Circle Foundation (http://redcirclefoundation.org/about), Brandon Webb, a former Navy SEAL and sniper school program leader.
Morin added, "Three days of over 100 labs and lectures delivered by industry leaders such as SANS Alisa Torres, Volatility co-creator Aaron Walters, Industrial Control Systems (ICS) expert Mark Fabro as well as Guidance Software favorite and Enscript expert James Habben will be available to attendees."
For more information on this event, contact info(at)htciaconference(dot)org. For information concerning sponsorships or the expo contact Carol Hutchings at carol(at)htcia(dot)org, (916) 408-1751.
About HTCIA
HTCIA is a 501(c)3 non-profit professional organization founded over 29 years ago for the purpose of educating individuals involved with high technology investigations. HTCIA continues to solidify its position as the leader within law enforcement and the corporate world for the prevention, investigation, and prosecution of crimes involving advanced technologies.
Contact:

General event inquiries – info(at)htciaconference(dot)org
Sponsorship inquiries – sponsorship(at)htciaconference(dot)org
Speaker inquiries – speakers(at)htciaconference(dot)org