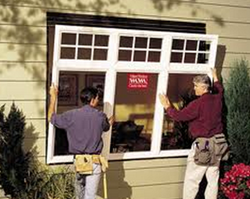 Improvements can save taxpayers up to $200 for the addition of an energy efficient window, and $500 for the addition of an energy efficient door.
Morro Bay, Calif. (PRWEB) December 18, 2015
Central Coast Glass recently released a report this week regarding tax credits available to homeowners for window replacement in Morro Bay, Cayucos, Cambria, Atascadero and San Luis Obispo.
The Federal Government is offering tax credits for energy efficient home improvements, including window replacement and door replacement. Qualifying improvements can save taxpayers up to $200 for the addition of an energy efficient window, and $500 for the addition of an energy efficient door.
The stipulations for the credits are as follows:

Totals should not include installation or labor costs.
Doors and windows must meet the Energy Star program requirements.
Door and window replacements must have been installed between January 1, 2012 and December 31, 2014.
There is a maximum of $500 in a lifetime.
Homeowners should file IRS Form 5695.
Homeowners may receive a tax credit equal to ten percent of the product cost up to:
$200 for windows and skylights
$500 for eligible doors
Eligible homeowners in Morro Bay, San Luis Obispo County and beyond should contact their tax professional, visit energystar.gov or visit irs.gov for more information.
Central Coast Glass offers Energy Star certified vinyl window replacements. A locally owned and operated business in beautiful Morro Bay, California, most of their products are from Milgard Windows and Doors, which manufacture high quality, energy efficient products that meet the strict Energy Star thermal and solar requirements.
Central Coast Glass is proud to offer vinyl windows, which offer many advantages over alternatives such as aluminum, wood or fiberglass, including being:
Extremely energy efficient
Non-corroding
Durable
Practically maintenance-free
Vinyl frames are made primarily from polyvinyl chloride. This material, unlike wood or aluminum, can be designed with interlocks and air barriers built right in, improving their energy efficiency.
While homeowners may be hesitant to invest in window replacements because of cost, the cost to savings ratio will more than pay off over time. Not only can homeowners be eligible for tax credits, but window replacements can improve the value of a home, as well as save the homeowner thousands of dollars over time in heating and cooling.
Central Coast Glass offers free quotes and consultations on window replacements. Call them today at (805) 772-5080 .
Central Coast Glass
440 Quintana Road
Morro Bay, CA 93442
(805) 772-5080
Press release by Morro Bay web design and marketing company Access Publishing, 806 9th Street, #2D, Paso Robles, CA 93446 (805) 226-9890.