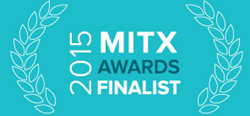 Tens of thousands of business professionals, trainers, entrepreneurs, educators and students have discovered the simple storytelling power of Knovio. We're thrilled and humbled to be considered among New England's top technology innovations.
Boston, Massachusetts (PRWEB) April 08, 2015
Knovio, the quick and easy online video storytelling platform from KnowledgeVision Systems, has landed nominations as a Finalist in two categories in the esteemed MITX Awards competition from the Massachusetts Innovation and Technology Exchange. Knovio, the multimedia presentation creation tool for desktop and mobile, will be presented in the final round of judging in the "Best Work Productivity Technology" category, while its iPad version, Knovio Mobile, is a Finalist in the "Best B2B Technology" category.
Sometimes called the "Oscars for all things digital," the MITX Awards represent the largest and most prestigious annual awards competition in the country for digital marketing and technology innovation, bringing together 1,200 of the best and brightest minds in the digital media, marketing, and technology industry. The final awards will be presented at the MITX Awards ceremony in Boston on May 14th.
"Tens of thousands of business professionals, trainers, entrepreneurs, educators, and students have discovered the simple multimedia storytelling power of Knovio since its public release in 2014," said KnowledgeVision CEO Michael Kolowich. "We're thrilled and humbled to be considered among New England's top technology innovations in the last year -- on not one, but two categories."
Knovio is the fastest, easiest, and most fun way to explain, teach, or sell anything using personalized on-demand multimedia stories, created on a desktop or mobile device. Using a webcam or built-in cameras and microphones in mobile devices, Knovio recreates and enhances the in-person storytelling experience, by capturing a video or story and synchronizing it with presentation slides and camera images. The result is engaging on-demand content for learning, marketing, or corporate communications that can be viewed from any desktop or mobile device.
Knovio is designed for anyone who wants to pitch an idea, explain a concept, document a process, teach a class, advocate a cause, or sell a product. Its simple interface guides the storyteller rapidly through the creation process. Its forgiving workflow makes it easy to make improvements, correct mistakes, and add visual elements to the story. Its robust infrastructure makes Knovio-created content instantly available worldwide from any web browser. And its meticulous tracking capability offers detailed feedback on how, when, and with what level of engagement each piece of content is viewed.
Knovio is currently available in a free version as a desktop browser application as well as a native app for the Apple iPad. Versions supporting extended features are available as add-ons to KnowledgeVision's Professional, Corporate, and Enterprise Edition clients.
About KnowledgeVision
KnowledgeVision Systems is creating a new video medium for business, by reinventing the business presentation for an online, on-demand, video-enabled, mobile, anytime/anywhere world. A Massachusetts-based company backed by GrandBanks Capital and Rand Capital (NASDAQ: RAND), KnowledgeVision offers a Software-as-a-Service solution that makes it easy to create, share, and track online video presentations.
About MITX
Established in 1996, MITX -- the Massachusetts Innovation & Technology Exchange -- is the leading industry organization bringing together the marketing, technology and design community to engage to ignite innovation in the business community. Connecting more than 7,500 professionals in New England, MITX is a dynamic community of thought leaders and collaborators in search of insight, education and opportunity. Creator of FutureM, MITX is headquartered in Boston, MA. For more information, visit http://www.mitx.org/.