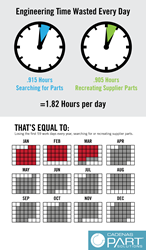 Managers and executives are shocked; they cannot believe that almost 20% of their engineering time is lost hunting for or recreating supplier parts in their design applications.
Cincinnati, OH (PRWEB) April 08, 2015
CADENAS PARTsolutions, known for their Strategic Part Management (SPM) software suite called PARTsolutions, has recently surveyed of hundreds of engineers from more than 500 companies with the goal of discovering hidden pain points in their daily routines. The data reveals how engineering firms and manufacturers are wasting costly engineering time by not properly managing standard and supplier parts.
59 Days Wasted Searching For and Recreating Standard and Supplier Parts
Among the most revealing discoveries in the report, CADENAS PARTsolutions asked engineers two questions, which illustrate a major source of lost time for engineering teams. Engineers were asked:
"How much time do you spend, on average per day, recreating standard or supplier parts?" and
"On average how much time, per day, do you spend searching for standard or supplier parts?"
The engineers revealed that, combined, they each lose 1.82 hours a day searching for or recreating supplier parts in their design systems. This adds to 59 working days per engineer, per year, lost to non-value added tasks.
Engineering Design Efficiency Report Highlights:

Hidden time wasters in the engineering process.
Tasks that slow down speed to market.
Common challenges of multi-cad environments.
How much time engineering teams spend searching and recreating existing parts.
Many engineering departments have addressed these organizational issues by implementing PARTsolutions Strategic Part Management or SPM, which enables engineering teams to find and source standard parts in a much more efficient way, reducing waste, saving time and money on design projects.
"These surveys are a great way for us to have a dialogue with the engineers, and provide them a forum to speak about to the issues they face on a daily basis," says Tim Thomas, CEO of CADENAS PARTsolutions. "Since we published the report we had two very common responses. The engineers are relieved they are not alone, this is a common problem, spending so much time on these needless tasks. On the other end of the spectrum, the managers and executives are shocked; they cannot believe that almost 20% of their engineering time is lost hunting for or recreating supplier parts in their design applications."
Download the full Engineering Design Efficiency Report
About CADENAS PARTsolutions
CADENAS PARTsolutions is a leading provider of next generation 3D part catalog management and sales configuration solutions. For large manufacturers, CADENAS PARTsolutions provides Strategic Part Management (SPM) software with centralized 3D parts libraries making it easy for global design teams to find, reuse, and control standard and proprietary parts. For component manufacturers, CADENAS PARTsolutions provides 3D product catalogs with digital CAD download technology, helping businesses increase sales lead generation and to ensure that components get "designed in" to OEM products. http://www.partsolutions.com
###
Media Inquiries
CADENAS PARTsolutions
Adam Beck – Marketing Manager
400 Techne Center Dr., Ste. 301
Milford, OH 45150 USA
Phone: (513) 453-0453
Fax: (513) 453-0460
adam(dot)beck(at)partsolutions(dot)com
http://www.partsolutions.com
@partsolutions