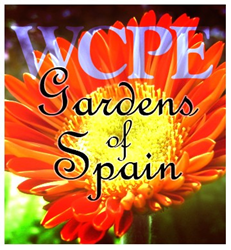 "You're in for a great weekend of music from Spain."
WAKE FOREST, N.C. (PRWEB) April 08, 2015
FOR IMMEDIATE RELEASE
WCPE FM Offers Gardens of Spain Weekend
TheClassicalStation.org Focuses on Spanish Masters
WCPE's Music Director William Woltz announces In the Gardens of Spain Weekend, April 10-12. 2015. The program will feature great composers as well as virtuoso performances.
"The color, passion and fire of the Iberian peninsula will be captured in the compositions of de Falla, Granados, Rodrigo, Tárrega and more," offers Woltz. "You're in for a great weekend of music from Spain."
A partial listing includes:
10 Friday
7:00 p.m. Rodrigo: Concierto Andaluz (for Four Guitars and Orchestra)
8:00 p.m. Albéniz: Spanish Rhapsody
9:00 p.m. Granados: Piano Trio
11 Saturday
8:00 a.m. Glinka: "Memory of a Summer Night in Madrid"
9:00 a.m. Granados: Three Pieces for Guitar
10:00 a.m. Falla: Homenajes
11:00 a.m. Albéniz: Suite Espanola
5:00 p.m. Falla: Three Dances from The ThreeCornered Hat
12 Sunday
7:00 a.m. Casals: "Salve Regina"
11:00 a.m. Sanz: Suite Espanola
12:00 p.m. Albéniz: "Sunday Festival in Seville"
1:00 p.m. Rodrigo: Concerto for a Fiesta
2:00 p.m. Tárrega: "Capricho Arabe"
3:00 p.m. Albéniz: Selections from Iberia
4:00 p.m. Falla: Nights in the Gardens of Spain
Also the Saturday Evening Request Program enables listeners to add their favorite composers and performers to the playlist.
http://theclassicalstation.org/features_request.shtml is the link to the SERP request page.
WCPE can be heard worldwide, 24/7, via the Web in multiple streaming formats, including the next generation IPv6. Visit TheClassicalStation.org/internet.shtml to begin listening online.
Across North America, WCPE can be heard through cable television and radio transmission affiliates. For a complete list of affiliates and cable broadcasters, visit TheClassicalStation.org/partners.shtml and TheClassicalStation.org/cable.shtml.
In central North Carolina and southern Virginia, WCPE is found on the radio at 89.7 FM.
For more information on WCPE, or to print a downloadable version of Quarter Notes, please visit TheClassicalStation.Org.
About WCPE:
Since 1978 WCPE 89.7 FM has been dedicated to excellence in Great Classical Music broadcasting. WCPE is one of the first community-supported stations to stream on the Internet. The programming is available on our own satellite channel and on multiple Internet streams, including IPv6. WCPE receives no tax-derived support, rather depends on tax-deductible support through on-air fundraising and mail-out campaigns. More information can be found at http://www.TheClassicalStation.org or by calling 919-556-5178.
###
Media Contact:
Curtis Brothers
919.556.5178
curtis(at)TheClassicalStation(dot)org