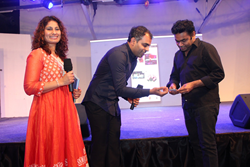 Ahhaa is a great means of connecting people around the globe to inspire, inform and illuminate everyday life. -Bill Gaudelli, Chairperson, Teachers College, Columbia University
New York, NY (PRWEB) April 11, 2015
Oscar and Grammy Award winning musician AR Rahman best known for his Music composition in Movie Slum Dog Millionaire, launched Ahhaa android app in Chennai, India at his music school KM Music Conservatory on April 2nd, 2015.
After Rahman launched the app he tweeted about the launch to his 7 million followers.
Ahhaa is a free positive social media app where users get to inspire and uplift each other by sharing positive stories, ideas, breakthroughs and solutions that will be of help to others. Ahhaa launched its iOS app over a month ago at the West Virginia University, Ahhaa is used in many organizations, colleges and schools in the US and India including Columbia University Teachers College, West Virginia University and New York City high schools. Ahhaa has partnered with PBIS (Positive Behavior Interventions & Supports) to bring positive social media to high school students.
For anyone looking to build their careers Ahhaa is the social media platform you want to be on. One of the features is a vision board where users can share all their amazing work that they do day in and day out. Through this, not only are they inspiring others but they are leaving behind a positive digital footprint of their work on the online world which works great as part of an e-portfolio.
Ahhaa is one of the first social networking apps to use augmented reality. Users get to see all who are inspired by their waves on a 3D real time globe.
The founders Diane Bacchus-Quddus and Ashwin Srisailam hope to have Ahhaa become a massive inspiration and help engine.
Ahhaa is available on Itunes app store and Android play store.