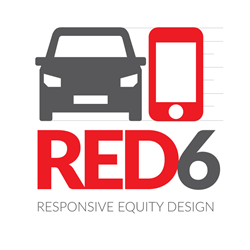 Simply put by Chief Marketing Officer, Curtis DeGroote, "this changes everything."
Cedar Falls, IA (PRWEB) April 09, 2015
RED6 is set to release as Driving Loyalty's all-new platform for loyalty and retention, built from the ground up. Simply put by Chief Marketing Officer, Curtis DeGroote, "this changes everything."
Paragon, Rick Case, Spreen Honda dealerships as well as Team Toyota, Ken Garff, Lithia, Germain, Haselwood, Deery, Potamkin, Radley, Fred Beans, Findlay and Lia Auto Groups are scheduled for 1st launch.
So what is RED6? It is a comprehensive, loyalty marketing and retention management platform that incorporates cutting edge technology that has been developed over the past 3 years. The development includes responsive web platforms for both the Consumer and the Dealership users and allows them to engage with their marketing from any device, not just an app.
The automated marketing system delivers a consistent upgrade message to customers at home, in the showroom and in the service drive. Dealership users have the ability to share and present offers to each qualifying service visitor on demand, with one click by using an IPad, or other devices. In one view customers are able to see all other available offers, cost of ownership savings, fuel savings and the new vehicle upgrade product enhancements.
Who will receive these communications? Customers will receive a monthly upgrade offer if they qualify as the dealership's desired target market and gross profit. Each of the 5 trim level scenarios include sales tax, title, license & even registration costs.
President Scott Davis adds "RED6 is beautiful software that make sense,. It doesn't matter if you have a staff member working or not, it continues to work for the dealer." "When the dealership reaches a RED6 level in the loyalty management solution, there is nothing better, nothing more powerful out there. I don't care if you are using Auto Alert, Red Bumper, Dominion or Dealer Wizard, you cannot compare those tools to the RED6 platform," adds Curtis DeGroote, lead designer and engineer of the product.
For the first time in the Automotive industry, Responsive Emails are implemented as well. Thru research, it was discovered that 65% of consumers are reading their emails on their mobile device and a full 71% are deleting your email if it is poorly formatted or does not read correctly. RED6 solves that challenge by completely distributing their monthly communications via Responsive Emails. RED6 adds One-touch Selling in Service, Responsive Equity Design, which means both the Consumer and Dealer platforms completely usable on Mobile devices.
Combine the Responsive Emails and the Responsive web platform and the patent pending Undeniable Side-by-Side comparison Upgrade, tying them to the all-new Consumer and Dealer Marketing follow up portals will result in them becoming staples in every sales, BDC and service drive marketing scenarios. Add the emails to the fully variable letters that are seamlessly integrated, and delivering it to the customer's home is powerful personal marketing.
Giving the Service only Conquest offers at home allows them to carefully consider the overall reason's why they have not been back to service in a while as well. All of these scenarios are completely covered by the RED6 platform and all-new technology package designed and built by Driving Loyalty.
You can see the all-new RED6 Platform at the Digital Dealer Conference in Tampa or go online to connect today at: http://www.loyalty15.com
Automated Retail Marketing System: Customer Retention, Sales Reminder Program called RED6 moves to Release stage from Driving Loyalty.