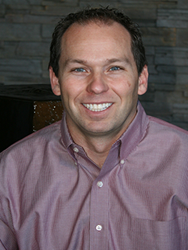 Durango, CO (PRWEB) April 08, 2015
Patients with periodontal disease can now receive minimally painful laser dentistry treatment from Dr. Mason Miner. Dr. Miner is a family dentist in Durango, CO, who recognizes the value of WaterLase iPlus™ laser technology for the treatment of gum disease. Not only does the WaterLase iPlus™ system reduce the need for anesthetic, but it also makes it possible for dental professionals to treat periodontal disease with high levels of speed and effectiveness.
Periodontal disease causes a variety of unpleasant symptoms, including chronic halitosis, bleeding gums and dental pain. In severe cases, gum disease can even lead to tooth loss and has been linked to dangerous health conditions such as heart disease and diabetes. Patients with gum disease are encouraged to pursue laser treatment options. Dr. Miner is proud to be a dentist in Durango, CO who offers WaterLase iPlus™ treatment for gum disease patients. Laser dentistry is a preferred gum disease treatment method for many dental professionals because it is fast, effective and minimally painful.
The WaterLase iPlus™ laser makes it easier for Dr. Miner to maximize patient comfort while treating their gum disease symptoms. This high-tech device utilizes a combination of laser technology, air and water to clean the gums, clear away diseased gum tissue, and disinfect the treated area. Due to the absence of scalpels and other sharp dental tools, many patients report that the WaterLase iPlus™ system is far more comfortable than most other available treatment options. Additionally, this unique treatment method eliminates the need for stitches by sealing off the area with a series of laser pulses.
Many periodontal patients avoid seeking treatment for periodontal disease symptoms because they are nervous about the pain associated with traditional gum disease treatment methods. The WaterLase iPlus™ system helps ease patient concerns due to its gentle nature and the speed with which it can treat gum disease symptoms. With up to 100 laser pulses every second, the laser minimizes treatment time so that multiple areas can be more easily addressed within a single office visit.
Patients with gum disease are encouraged to find out how laser dentistry can help relieve their symptoms in a minimally-painful manner. Those who are looking for a family dentist in Durango, CO that uses the WaterLase iPlus™ system are urged to schedule a consultation with Dr. Miner's practice.
About the Doctor
Dr. Mason Miner is a general dentist offering personalized dental care for the entire family, in Durango, CO. Dr. Miner is a graduate of Marquette University School of Dentistry in Milwaukee, Wisconsin. Beyond that, he also completed training in Advanced Education in General Dentistry at the University of Missouri, Kansas City. Dr. Miner focused his studies on the surgical placement and restoration of dental implants, which he offers as a service at his practice. Dr. Miner is a member of the American Dental Association, the Colorado Dental Association and the San Juan Basin Dental Society. To learn more about the services offered by Dr. Miner, please visit his website at http://www.masonminerdds.com or call (970) 306-0535 to schedule an appointment.