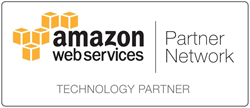 ....switching to WaveReview literarily doubled the rate of 5 star reviews we were getting
Montgomery Village, MD (PRWEB) April 23, 2015
WaveReview, a leader in proactive, online review generation, is proud to officially announce that we are part of Amazon's Partner Network (APN) as an Amazon Web Services Technology Partner (AWS). Amazon merchants can now seamlessly increase their positive product reviews, seller feedback, star ratings and, most importantly, sales revenues, through WaveReview's powerful marketing platform.
WaveReview Case Study on Amazon Merchants.
WaveReview increases the frequency and effectiveness of interaction with a merchant's customers at just the right time…. following their most recent purchases. Our ability to maintain this customer connection is a critical component to influencing new customers who are about to make an important buying decision. WaveReview's platform drives positive product reviews and seller feedback significantly past what has previously been attainable. Historical conversion rates for online reviews have hovered around the 2-3% range, while WaveReview is tripling this percentage, delivering 10% for our customers. This translates into substantial sales increases.
What is the value of a good review to your business? Feedback from our customers range anywhere from $15 to $500. Positive reviews lead to higher rankings which, in turn, lead to more sales. It's a simple formula. The integration between Amazon and WaveReview allows Amazon merchants to effortlessly communicate with their buyers, seeking feedback and gently pushing them to post reviews. But the proof is in the pudding, and the pudding we provide is a free 30 day trial.
Here are a few comments from Amazon merchants:
"No one sells your products better than your customers, so it's always been our top priority to get 5 star reviews. For years we used the other leading Amazon review system, but switching to WaveReview literarily doubled the rate of 5 star reviews we were getting. I love hearing about all the happy customers but, more importantly, having the exponential social proof has pushed our sales through the roof!" Mike T., Owner, Sky Solutions LLC
"When I first learned about WaveReview and how it could help us in the very difficult and time consuming task of receiving testimonials and reviews, I estimated the value to be $1,000 per month, IF it worked. Not only did it work, it smashed our expectations and we've tripled our reviews in one month's time with organic, real product reviews! We're thrilled." John C., Co-founder of Salt Revolution
This partnership has tremendous promise for Amazon merchants and WaveReview. We are beyond excited about what the future holds and are thrilled to have the opportunity to help merchants around the world build their online businesses and increase sales.