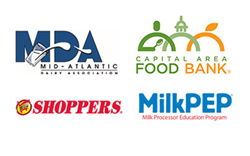 Washington, DC (PRWEB) April 10, 2015
Baltimore Ravens John Urschel will join representatives from the Capital Area Food Bank and the Maryland Food Bank to help The Great American Milk Drive initiative, the first-ever national program to help deliver highly desired and nutrient-rich gallons of milk to hungry children and families who need it most. All donations made to The Great American Milk Drive through this partnership will directly benefit those in need across Maryland, Virginia and the D.C. metropolitan area.
Hunger impacts 1 in 6 Americans, including nearly 16 million children who do not have access to adequate nourishment to help them reach their full potential. Hunger has no boundaries and is a problem that exists in urban, suburban and rural communities. According to Feeding America, the nation's largest domestic hunger relief organization, milk is one of the items most requested by food bank clients—yet there is a nationwide shortage because it is rarely donated.
During the giving campaign in all 55 Shoppers Food & Pharmacy stores from April 17–May 10, customers can donate $1, $3 or $5 at the cash register to buy much-needed milk for families in need. In addition, with a simple click of a mouse (milklife.com/give), it is possible to donate milk for as little as $5 to a family who does not have regular access to it. By entering your zip code, you can ensure that the milk is delivered from the farm to a local Feeding America food bank in your very own community.
WHEN / WHERE:
Saturday, April 18 – Shoppers Food & Pharmacy
1649 Crofton Center
Crofton, MD 21114
9:40 a.m. – Media arrivals
10:00 a.m. – Event start
ON-SITE INTERVIEWS:
John Urschel, Offensive Lineman, Baltimore Ravens
Lavette Sims, Director of Distributions, Capital Area Food Bank
George Langenfelder, Food Sourcing Manager, Maryland Food Bank
Melissa Malcolm, Senior Manager, National Field Marketing, MilkPEP
Jeff Bleichner, VP of Operations, Shoppers Food & Pharmacy
The Edwin Fry Family, Dairy Farmers, Fair Hill Farms
ADDITIONAL INFORMATION:
The Great American Milk Drive is made possible by the nation's dairy farmers and milk companies. The goal of this campaign is to deliver milk to families in need through the following food banks in Shoppers Food & Pharmacy's coverage area: Maryland Food Bank, Capital Area Food Bank, Fredericksburg Area Food Bank and the Blue Ridge Area Food Bank Network.
SPACE IS LIMITED. RSVP: Jennifer Newport, Shoppers Food & Pharmacy, 202-304-8297 (C), Jennifer.J.Newport(at)supervalu(dot)com