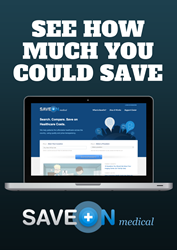 How much could you save on your medical bills? Save On Medical can help.
Tampa, FL (PRWEB) April 09, 2015
Save On Medical is pleased to announce that they have added over 60 new providers to their price transparency website. With the network expanding in states including; Minnesota, Wisconsin, Tennessee, Nevada, New York, Louisiana, Nebraska, Indiana, California, Alabama, Florida, Illinois and Texas – Save On Medical will be able to give patients more options when it comes to shopping for their medical procedures.
These 60+ providers will now list the prices for their diagnostic imaging procedures on Save On Medical, giving patients the power to compare costs for medical procedures like MRIs, CT scans, X-rays, mammograms and ultrasounds.
Patients can also now book their appointments online through Save On Medical with these providers and pay for their procedures online, locking in the discounted rates. Save On Medical works like Travelocity or Hotels.com, giving patients deals on medical procedures for paying up front.
The radiology groups included in this new set of providers include; MMI, St. Paul Radiology, Suburban Imaging, Diagnostic Health Centers of Tennessee, Desert Radiologists, Distinguished Diagnostic Imaging and many more.
Start searching for providers in your area today at http://www.saveonmedical.com .
About Save On Medical
Save On Medical is an online marketplace for medical procedures that uses price transparency to help patients make informed care decisions based on cost, quality or convenience —similar to the way Expedia does for travel. Providers are then able to advertise their pricing, collect up-front payment and fluctuate prices based upon demand. Save On Medical currently has about 25% of the country's outpatient imaging centers on their website.