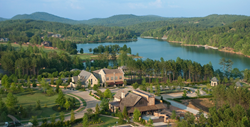 Cultural and Golf Events Coming to The Reserve at Lake Keowee
Greenville, South Carolina (PRWEB) April 09, 2015
Lake and mountain living is even sweeter when a community adds a touch of music and entertainment. The Reserve at Lake Keowee has been doing this for years and has gained a name for itself as one of the top places to retire in South Carolina. Not only does music fill our hearts and souls, but it has some amazing health benefits associated with listening to tunes of all varieties. From rock n roll, soul, jazz, chamber and classical, music has many therapeutic effects that help the body deal with life circumstances.
With that said, Baby Boomers seeking "top shelf" lifestyle choices in retirement are finding the option of fabulous musical venues being made available right in their own neighborhoods. One such well designed development being recognized for offering its residents "world class" entertainment is The Reserve at Lake Keowee. The gated community offers year round cultural events for its residents in the neighborhood. The Founders Hall in the village square is the perfect venue to enjoy musical performances presented each season.
Here are some of the events scheduled for this Spring and Summer at The Reserve at Lake Keowee:
Slated for Thursday, April 16th at 7pm also at Founders Hall. A live concert with John McCutheon will be held for culturally inclined residents who appreciate this master of over a dozen traditional instruments, mosy notably the hammer dulcimer. This acclaimed folksinger and instrumentalist has thirty recordings, seven of which were Grammy Award nominations. John is noted for his commitment to grassroots political organizations and has personally produced over 20 albums for fellow artists ranging from traditional fiddlers to contemporary singer-songwriters. Described as the "Rustic Renaissance Man" by the Washington Post, "calling John McCutcheon a 'folksinger' is like saying Deion Sanders is just a football player." In addition to his concert hall and theatre circuit, this well-rounded artist also performs at elementary auditoriums and farm rallies. "People of every generation and background seem to feel at home in a concert hall when John McCutcheon takes the stage, with what critics describe as "little feats of magic," "breathtaking in their ease and grace…," and "like a conversation with an illuminating old friend."" John's music will be available for purchase the night of the concert.
Also popular with folks that live at The Reserve of Lake Keowee, Pan Harmonia is an independent repertory company based in Asheville, NC and is directed by flutist Kate Steinbeck. Now in its 15th season, Pan Harmonia, has been nationally recognized for its unique work and superb artistry as well as its appeal to audiences of all ages. During the week of June 14th through 19th, Pan Harmonia is being welcomed back to The Founders Hall at The Reserve at Lake Keowee to prepare for the recording of their newest CD. In addition to open rehearsal during the week, a preview performance with be held on Thursday, June 19th from 7 to 8:30pm for residents. On board for this spectacular "live" rehearsal are the distinguished flutist Kate Steinbeck known for her acclaimed recordings of "Light in the Corner" with percussionist Byron Hedgepety and "Luinescense" with guitarist Amy Brucksch. Also performing is classical guitarist and teacher Amy Brucksch who has played locally with the Greenville Symphony Spotlight Series and was formerly on the faculty of the University of Toledo and Adrian College. Amy has a private studio at Wild Roots Fine Arts Center where she teaches classical guitar. Clarinetist Frederick Lemmons veteran of "The President's Own" United States Marine Bank, will join in as well. Presently a clarinet professor at Mars Hill University, Lemmons also performs with the Asheville Lyric Opera, Brevard Philharmonic and the Hendersonville Symphony. Rounding out the ensemble is cellist Nathan Leyland who has performed as a soloist with the Hartford Symphony, Manchester Symphony Orchestra, The Southeastern Ohio Symphony Orchestra, Des Moines Symphony Orchestra and the Welsh Hills Chamber Orchestra. These highly acclaimed musicians will provide an amazing musical journey for those who partake in this weeklong event.
The Reserve at Lake Keowee located at the base of the Blue Ridge Mountains has over 300 miles of shoreline on this pristine lake community. Nicknamed "the Garden of Eden", this majestic mountain based gated neighborhood boasts an award winning Jack Nicklaus Signature Golf Course, a 20,000 square foot golf clubhouse with dining, a lakefront Complex & Grill, 4 Har-Tru Tennis Courts, a Fitness Center, 5 ½ miles of walking trails, a Marina with 200 boat slips and a Village Market in addition to the Founders Hall.
This established Lake Keowee real estate development offers the ultimate in resort-style amenities and is highly social. Residents here congregate at "The Great Lawn" which is the centerpiece of the neighborhood for outdoor concerts and community events held annually for the residents. The Orchard House clubhouse provides the perfect place to mingle and enjoy a delicious meal or cocktails with friends. Culinary sophistication abounds at the many events held here for "foodie" lovers as well. For convenience, The Village Market offers groceries, a scrumptious deli and gift items for discerning Boomers. With over $100 million dollars of family amenities offered, there is always something happening at The Reserve at Lake Keowee.
With a perfect location located less than one hour from Greenville-Spartanburg International Airport, this lively and growing South Carolina location, also is close to Clemson University which is one of the top rated colleges in the nation. The enthusiasm of Clemson fans radiates throughout the community and provides the perfect place for young adults to pursue a first class education.
For golf fans, The Reserve of Lake Keowee had been selected to host the 2015 BMW Charity Pro-Am presented by SYNNEX Corporation and should provide golf enthusiasts the perfect opportunity to participate in this select annual event. This exciting event is scheduled for May 14-17, 2015. For anglers, Lake Keowee is the perfect place to fish for large mouth and spotted bass and kayakers can enjoy exploring the island and coves tucked away on this spectacular lake.
About 1,600 homes are planned with approximately 221 built or are now under construction. Homes for sale at The Reserve at Lake Keowee prices range from the high $400k's to well over $1 million. Wooded home sites start in the $100k's, golf and mountain-view home sites in the $200k's and lake-view lots for sale at The Reserve at Lake Keowee are in the $300k's.
Recently ranked #7 on the "Top 10" list of Lonely Planet's Best in Travel 2015, a visit to this splendid retirement destination is a must if you're considering relocating at retirement. As one of the top places to live in South Carolina, Real Estate Scorecard believes The Reserve is a superb choice for a meaningful, fulfilling and stress-free life for Boomers seeking a community with a "touch of class." Contact The Reserve at Lake Keowee to schedule a tour or attend one of these cultural events.
Call The Reserve at Lake Keowee direct at 877-922-5253.
About Real Estate Scorecard:
Real Estate Scorecard writes unbiased real estate reviews providing in-depth information about popular gated communities in Florida, Georgia, North Carolina, South Carolina and Tennessee, all in an effort to help people discover where to retire in the Southeast.
Website: http://realestatescorecard.com