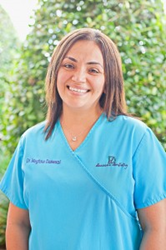 Houston, TX (PRWEB) April 08, 2015
Dr. Meghna Dassani now offers a revolutionary treatment for receding gums in Houston, TX. Gum recession is a serious oral health issue that can lead to many other problems. The fear of invasive surgical procedures may cause some to avoid seeking treatment in spite of the potentially severe consequences. To put her patients' fears to rest, Dr. Dassani has recently adopted the Chao Pinhole® Surgical Technique, a revolutionary procedure that corrects recession without the pain, swelling and bleeding associated with gum grafts.
Gums often pull away from the tooth roots so gradually that people do not even notice until the teeth become sensitive to hot, cold and sweet stimuli. The exposed roots change the aesthetic appearance of the smile by making the teeth look longer or larger. Recession can also happen more suddenly because of health issues such as hormone fluctuations, diabetes or periodontal disease. While the infection and tissue damage of gum disease is often a cause of recession, it can also be an effect. Bacteria are easily trapped in the pockets between the gums and the roots of teeth, and they are difficult to remove thoroughly with regular brushing and flossing. This makes it imperative for individuals in Houston, TX, with receding gums to seek treatment right away.
Most periodontists treat recession by cutting tissue from elsewhere in the mouth and sewing it over the exposed roots. The procedure and recovery can be painful and some dentists only recommend it in more extreme cases. Dr. Dassani offers the Chao Pinhole® Surgical Technique so that anyone with receding gums in Houston, TX, can take advantage of the benefits of healthy gums. Using a specialized dental tool, she makes a tiny hole in the gums and guides the tissue over the exposed root. A collagen strip holds the tissue in place and stimulates new tissue growth for improved healing.
Dr. Dassani can treat up to ten teeth in a single one-hour appointment. Patients experience immediate cosmetic benefits and typically report no discomfort within 48 hours of the procedure. To learn more about the Chao Pinhole® Surgical Technique and other advanced dental procedures that Dr. Dassani provides, visit her website.
About the Doctor
Dr. Dassani is a gentle, caring dentist who uses the most advanced materials & procedures available. She practices comfortable, health-centered dentistry with a strong emphasis on getting to know each of her patients. In addition to her technical efficiency and skill, Dr. Dassani is a careful listener & will explain before treatment what options best work for your individual needs. In her spare time, Dr. Dassani enjoys reading, scuba diving, swimming and working in her herb and vegetable garden. Dr. Dassani received her doctorate from the Boston University Goldman School of Dentistry. She has since completed many continuing education courses, including those in Misch Implant Institute Invisalign®, and Spear Center. Dr. Dassani is a member of International Congress of Oral Implantologists, the Academy of General Dentistry, Academy of General Dentistry, and the American Dental Association. Dr. Dassani was born & raised in Mumbai, India. When she married Rahul, they agreed the Clear Lake Area would be a wonderful place to work & raise their family. Dr. Dassani loves being outdoors with her husband & two young girls and can be found exploring the outdoors on most Saturday mornings. They are excited to be a part of the community. She is an avid learner & loves seeing a variety of people from every walk of life in the practice. She looks forward to your visit & to showing you the current ways dentistry can improve your life.
To learn more about the services offered at Dassani Dentistry, please visit the website at http://www.dassanidentistry.com or call (281) 488-4617.