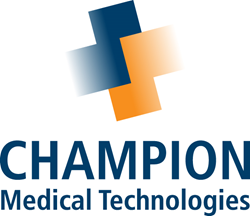 Progressive hospitals are turning to medical device management to gain more control and better insight into their medical device use.
Chicago, IL (PRWEB) April 09, 2015
Champion Medical Technologies today announced an agreement with Novation, the nation's leading health care services company, focused on revolutionizing operational performance, to offer its members negotiated pricing for medical device management with integrated RFID storage technology.
"We are excited to support Novation members with UDItracker®, a tissue and medical device management system that leverages RFID technology, to help them to improve regulatory compliance, increase patient safety, and lower operating costs," said Peter Casady, Chief Executive Officer, Champion Medical Technologies. "Hospitals nationwide lose up to $5 billion every year because of the limitations of their manual record keeping systems. UDITracker® accurately tracks tissue, orthopedic, spinal and cardiac implants in the OR, cardiac interventional suites, in inventory and in the EHR. Accurate, accessible and current information reduces the possibility of patients receiving expired or recalled implants, generates usage data and reduces the amount of time spent on recall investigation from weeks to hours.
"Progressive hospitals are turning to UDITracker® with integrated RFID storage to gain more control and better insight into their medical device use. Data has become critical to hospitals meeting the demands of accountable care and value-based purchasing reimbursement models, which pay claims based on a combination of quality, outcomes and costs. Champion has made significant investments in product development to provide hospitals with the tools to track unique device identifiers (UDI). UDI coding creates the data standard to accurately track and trace medical device implants through the entire chain of hospital custody. To make the data useful takes an enabling technology - like UDITracker®."
"Novation is pleased to offer all of our members leading-edge technology solutions for their supply chains," said Greg Knapp, Vice President, Sourcing Ops. "This contract continues our strong tradition of identifying and offering new technology that drives patient safety and reduces cost."
About Novation
Novation is the nation's leading health care services company, focused on revolutionizing operational performance for more than 100,000 members and affiliates of VHA Inc., UHC, Children's Hospital Association and Provista LLC. Novation's progressive approach to cost performance, data and intelligence, and integrated advisory solutions helps health care providers envision and advance new models of cost-effective, high-quality care. Headquarted in Irving, Texas, Novation is committee to the highest standards of ethical behavior and twice has been honored with the Ethisphere Institute's coveted Ethics Inside® Certification, and has been named three years consecutively to Ethisphere's World's Most Ethical Companies list.
About Champion Medical Technologies
Champion Medical Technologies is a privately held, healthcare information technology company and leader in tissue tracking and implantable medical device management systems (MDMS) for hospitals. Champion's flagship system UDITracker® captures, documents and shares medical implant information between patient care and supply chain information systems, empowering hospitals with the insights they need to increase patient safety and drive down operating costs.
UDITracker® is a comprehensive medical device management system that integrates regulatory compliance, inventory management, quality assurance, warranty credit management, and product recall inventory and patient matching into a single, streamlined system. Using barcode scanners, smartphone apps and RFID storage units, users capture accurate and complete medical device label information in a single swipe, to ensure patient safety, produce inventory cost savings and to generate business-decision making analytics.
UDITracker® features interoperable interfaces to most electronic health record and inventory management systems, ensuring that medical devices can be uniquely identified, located in inventory, tracked during transfer from storage to the OR and traced directly to patients. Uniquely identified medical device information can be searched, sorted and shared within a single hospital or across a group of hospitals.
RecallConnect®, the only real-time recall inventory and patient matching system on the market, received a Chicago Innovation Award in recognition of its unique patient safety feature. It reduces from months to hours the amount of time it takes hospitals to identify patients and current inventory affected by a medical device product recall.
Founder and Chief Executive Officer Peter Casady established Champion Medical Technologies in 2006. Today, it is the market leader in tissue compliance and medical device management for hospitals.