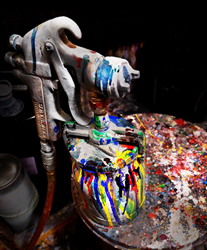 Our clients will get the most out of their investment, and we won't have to spend time and money chasing our best work all over the Internet.
Pasadena, Calif. (PRWEB) April 10, 2015
The advent of the Internet and its various social media channels have made it difficult for photographers, especially those who work for design and advertising firms, to determine and enforce the copyright usage boundaries of the photographs they create and sell. As the global market for digital photography continues to grow, usage boundaries will only become more difficult to enforce. That's why Echo-Factory, a Pasadena-based advertising agency and photography studio, has decided to offer clients unlimited custom photo usage rights.
The dawn of the digital age has ushered in major changes in the ways photographs are made and used in advertising. Throughout most of the 20th century, print ads dominated the advertising world, and the use of a photograph was generally restricted to a specific publication and/or geographic location. In this environment, it made sense that photographers created and collected fees for individual images, each one licensed for a particular use.
Nowadays, with just a few clicks, clients can use a single photo to connect with their audience via Instagram, Twitter, Facebook, their company blog, and so on. Echo-Factory President Michael Schaffer believes that the simplest and best approach to riding this wave of change is through unlimited usage. He said, "This model will allow Echo-Factory to focus on the creative—what we do best. It will eliminate the hassle of contracts and, instead of concentrating on single-use images, and single image customers, this agreement will result in the production of a body of work over the course of a long-term relationship. Our clients will get the most out of their investment, and we won't have to spend time and money chasing our best work all over the Internet."
Looking to the future, it's safe to predict the advertising world will continue to be dominated by visual appeal, and it's certain that the growth and success of businesses will continue to ride, in great part, on the quality and allure of the images they use to represent what they offer and who they are. Like Echo-Factory, agencies and studios will be wise, then, to watch with great care the wave of change in the monetization of photography. This will allow agencies to adapt to the ever-changing tide in such a way that they are able to maintain the fine balance between profitability and the creation of high quality, engaging pictures.
Visit http://www.echo-factory.com/work/ to see Echo-Factory's portfolio of advertising photography and to request a quote.
About Echo-Factory: Echo-Factory is a creative-based advertising agency and photography studio located in Pasadena, California. The agency services startups, mid-level businesses and national brands with strategy, R&D, campaign concepting, design and implementation. The company, renowned for its custom photography and graphic design, is also known for its Internet marketing services, including website development, SEO content creation and social media management. Echo-Factory's diverse client list ranges from clean-tech to action sports to fashion. View the Echo-Factory portfolio at http://www.echo-factory.com.
###