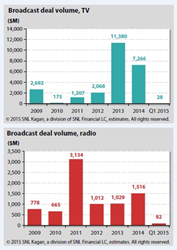 Monterey, Calif. (PRWEB) April 09, 2015
Broadcast station M&A volume reached $120.5 million in the first quarter of 2015. That compares to the $778.1 million in Q4 2014 and to the seven billion-dollar-plus quarters prior, which were boosted by a wave of consolidation among the major station-group owners. Radio volume was $92.3 million vs. $28.2 million for TV stations.
The market is taking a break after the historically high volumes of the last two years, a period when transactions that would otherwise have taken place between 2009 and 2012 finally got done thanks to the improved financial environment and the increased need for scale in the TV station business. Looking forward, despite no lack of companies still interested in expanding their broadcast portfolios, volume could remain at lower levels in 2015. Working against the M&A market are leverage concerns at some of the larger radio companies, as well as the uncertainties surrounding the pending FCC incentive auction and its tantalizing potential for huge payouts to TV-station owners.
Cash flow multiples have been hovering between 6.0x-7.0x (radio) and 8.0x (TV) for the last two-and-a-half years – levels that are now considered the norm, as opposed to the historical double-digit multiples of the late 1990s and early aughts. These would likely be higher for larger radio transactions, and have been driven on the TV-station side by potential near-term increases in retransmission revenues, leading to higher buyers' multiples.
The largest radio deals of Q1 2015 were carried out by Alpha Media LLC. In January, Alpha Media bought three FM stations from Coast Radio Company for $11.15 million / 7.3x cash flow and four stations from Sandton Capital Partners L.P. for $8.1 million / 6.5x cash flow. In March, the company added four more stations coming from Wilks Broadcast Group, LLC for $23.0 million / 7.0x cash flow, which constitutes the largest radio deal so far in 2015.
The largest single radio-station deal so far this year took place in the non-commercial realm, where Educational Media Foundation paid $7.0 million ($1.84 per pop) to Queen Cities Broadcasting, LLC for KMCQ-FM. The Walt Disney Company sold four more of its Radio Disney AM stations for a total of $5.25 million; two of the stations were bought by Salem Media Group, Inc., while the other two went to St. Peter The Rock Media and Charlotte Advent Media Corporation, respectively.
The first notable TV deal of the year took place in February, when ION Media Networks, Inc. sold two stations in St. Louis, Mo., and Columbia, S.C., to Northwest Broadcasting, Inc. for a total of $6.0 million. This transaction was topped in size by the $17.5 million sale of KMVT/KSVT from Neuhoff Communications, Inc. to Gray Television, Inc. Due to the low-power status of KSVT, the two stations constitute a legal CBS/FOX duopoly, which explains the 10.0x cash flow multiple – the first double-digit multiple for a TV deal since September 2013.
About SNL Kagan
SNL Kagan, a division of SNL Financial LC, is a comprehensive resource for financial intelligence in the media and communications sector, including the broadcasting, cable, entertainment, motion picture, telecom, wireless, satellite, publishing, new-media industries and media technologies. The SNL Kagan suite of products integrates breaking news, comprehensive data and expert analysis into an electronic database available online and updated around the clock. For more information, visit http://www.snlkagan.com.
Visit SNL in the Media to learn more about resources available to press.