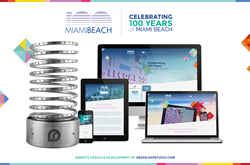 "We were thrilled to be part of such a monumental project in our hometown, being recognized by the Webby's was the icing on the cake" - Alex Martinez, Founder
Miami Beach, FL (PRWEB) April 09, 2015
On April 7, 2015, International Academy of Digital Arts and Sciences (IADAS) announced the nominees and honorees for their 19th Annual Webby Awards. Out of nearly 13,000 entries, the Miami Beach Centennial website was selected and awarded Honoree status within the category of Government Websites. The website was designed and developed by Miami Beach based creative agency DeepSleep Studio.
MiamiBeach100.com served as the digital pulse of the ongoing celebration surrounding Miami Beach's 100th birthday. The mobile-friendly website offers information on the city's history and environmental initiative, a gallery of City events and highlights, an online store stocked with Centennial memorabilia, a live social media feed and a calendar of related events leading up to the main attraction: the Hard Rock Rising Global Music Festival, which took place on March 26 in celebration of the City's incorporation and included performances by Gloria Estefan, Wyclef Jean, Andrea Bocelli, Flo Rida and more. The concert streamed live on MiamiBeach100.com.
DeepSleep Studio was commissioned by ACT Productions to design and develop the mobile friendly website. The website's mobile opt-in feature was developed and integrated by DeepSleep Studio's partner, Red Fish Media.
DeepSleep Studio is a full service creative agency located at 605 Lincoln Road Suite 230, Miami Beach, FL. They recently launched the website for The Knickerbocker Hotel in New York City's Time Square, and have signed on as the agency of record for Thompson Miami Beach and the Marriott Stanton South Beach. DeepSleep recently won a Regional Emmy Award for their video coverage of Miami Music Week 2014 at The SLS Hotel South Beach, a brand they helped launch in 2012.