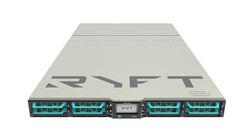 ROCKVILLE, Md. (PRWEB) April 09, 2015
Ryft announced today the company will present and exhibit at the HPC User Forum in Norfolk, Virginia, April 13-15, 2015. Ryft will show how organizations can accelerate powerful big data analytics performance to 100X faster than the fastest alternatives. Pat McGarry, Ryft's vice president of engineering, will also present to attendees on how organizations can get more value from data with innovative technologies that deliver real-time data analytics without time-consuming data indexing or extract, transform and load work.
At the HPC User Forum, which brings together leaders from today's largest users of high-performance computing and innovative data analytics solutions, Ryft will discuss how the 1U-size Ryft ONE can replace hundreds of traditional servers for high-performance data analysis needs. Packing the power of a high-performance computer with the ease of use of a Linux server, Ryft will show attendees how the combined Ryft Analytics Cortex and Ryft Algorithm Primitives Library enable fast, simple and sophisticated data analysis with the Ryft ONE.
Big data initiatives are at risk of failure when data analysis projects take months to implement, days to load and prepare data, and hours to provide valuable insight. Traditional infrastructures were not designed for the unique needs of large-scale big data analysis and are riddled with bottlenecks that slow organizations' abilities to get actionable insights from data. Ryft's presentation will highlight how the Ryft ONE dramatically speeds the decision-making process by simultaneously analyzing both batch and streaming data at speeds of 10 gigabytes per second while also reducing complexity and cost.
A recent IDC Research Technology Spotlight* looks deeper into what today's companies require from their big data infrastructures, how they are bypassing these bottlenecks and how Ryft helps organizations gain actionable insights by eliminating the complexity of massive-scale, real-time data analytics. Download the paper for more information on how organizations can use HPC resources to supercharge their data analytics initiatives.
For more information on the Ryft Early Access Program, contact a sales specialist at 855-RYFT-ONE or info@ryft.com.
About Ryft Systems Inc.
Based in the Washington, D.C., area, Ryft was founded 15 years ago by data analysis hardware innovators with the desire to create the future of computing, not re-create a faster version of the past. For more than a decade, Ryft hardware innovations have enabled the world's largest and most sophisticated users of big data to unlock new levels of visibility with unprecedented speed. With the Ryft Analytics Cortex technology, Ryft products now deliver the world's fastest performance, smallest footprint and highest efficiency, enabling users to unlock new insights faster and transform datacenter economics.
*IDC Technology Spotlight, sponsored by Ryft Systems, Inc., Ryft's Open Platform Aims to Supercharge Analytics Performance by Eliminating I /O Bottlenecks, March 2015