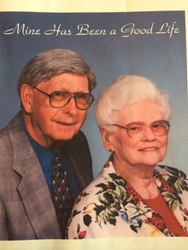 "Vernie is such a strong and enjoyable figure in our community. She is quick with a smile and even quicker with her wit!"
Oregon City, Oregon (PRWEB) April 14, 2015
Vernie B. Ohler has outlived her husband, brother, sister, and her two children. The family she has now, the residents of Avamere Living at Berry Park, are joining together to give Vernie a Birthday celebration that will look back on her joyous life and look forward to the rest of her vibrant years.
Born on April 24, 1915 in Arkansas, Vernie experienced a life full of travel and adventure. When she was 8-years-old, her family packed up their belongings and made the long trek to California where her father opened a barber shop. She attended Taft Union high school where she met the love of her life, Sam. Vernie and Sam married on August 4, 1935 after eloping to Las Vegas without telling anyone of their plans.
"That part of her history is so indicative of her tenacious attitude and wild card mentality," says Wendy Wood, Executive Director for Avamere Living at Berry Park. "Vernie is such a strong and enjoyable figure in our community. She is quick with a smile and even quicker with her wit!"
After settling in Bakersfield, California, Vernie and Sam started a family. They had a boy and a girl, Irene and Floyd. The family moved several more times until they settled in Springfield, Missouri. A determined woman, Vernie earned a Bachelor of Science in Education and her Master's in Education in her 40s, and taught herself to use a computer. Her children would eventually follow in her footsteps and also take up the mantle as educators. Always dedicated to her beliefs and the church, Vernie worked at the Gospel Publishing House. She and her husband enjoyed traveling and went to many places including Belgium, France, and Israel.
Vernie's husband Sam was diagnosed with Alzheimer's and the couple moved to Oregon to be closer to their daughter Irene and son in law. Now, Vernie spends her days at Avamere Living at Berry Park which she has called home since 2012. Before the on-set of dementia, Vernie, using her self-taught computer skills, wrote a 250 page book about her life.
Please join us at Avamere Living at Berry Park on April 24, 2015 at 1:00 PM to celebrate Vernie, her amazing life, and future.
To learn more about this event, please contact Wendy Wood at 503-656-7614 or by email WWood(at)avamere(dot)com.