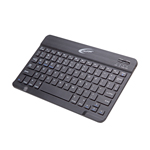 Educators no longer stand at the front of the classroom before a chalkboard, they're moving around to engage students.
San Fernando, Calif. (PRWEB) April 09, 2015
Califone International LLC, the premier manufacturer of quality audio technology and sound presentation solutions for schools, industry, institutions and professional use, announces its latest Bluetooth keyboard, the KB4. This new model features a compact, lightweight design for easy portability and flexible classroom use.
The ultra-thin (1/4") keyboard sports a sleek, black finish, and is compatible with Bluetooth-enabled iOS, Android and Windows-based systems to accommodate educators and students using a variety of devices. The KB4 is a fully functional modern keyboard that includes controls for volume, brightness and video. At 6-by-10 inches, it's deceptively small and portable, yet the keys are as comfortably spaced as they are on a full-sized keyboard, with a crisp, satisfying response.
"Classrooms are rapidly changing into dynamic learning environments," said Tim Ridgway, vice president of marketing for Califone. "Educators no longer stand at the front of the classroom before a chalkboard; they're moving around to engage students. Having a keyboard that moves with them, and is compatible with a variety of devices and operating systems, provides a powerful tool to deliver next-level instruction."
A critical feature for all of the major assessments for keyboards with mobile devices is the disabling of the on-screen keyboard on the device. The KB4 does this, meeting PARCC, Smarter Balanced, DLM, NCSC, EPLA21 and WIDA assessments.
The KB4 charges in 4-hours, and is operational for up to 44 uninterrupted hours. A mini-USB charger is also included. With the ability to connect to Bluetooth-enabled devices up to 30' away, it frees educators, students and presenters to move about the classroom and interact more directly.
The KB4 joins the oversized KB3 keyboard as part of the growing number of Bluetooth-enabled Califone devices.
The keyboard is protected under a 1-year warranty for standard use. Learn more about the KB4 and other innovative products from Califone at http://www.califone.com.
About Califone
Califone was founded in 1947 and continues to be a leader in the design, development and manufacturing of audiovisual and supplemental curriculum products for use in education. The company's products enable educators to incorporate rich audiovisual resources into lessons that help students build speaking and listening skills, critical to the English Language Arts portion of the Common Core State Standards. Califone offers a complete line of audio solutions, wireless systems and multimedia products for small, medium and large presentation needs, and serves millions of educators and students in the PreK through higher education school environments.