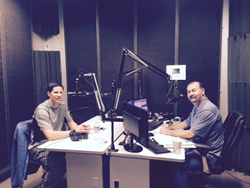 It was an honor to be given the opportunity to share my experience and knowledge with liposuction.
Las Vegas, NV (PRWEB) April 09, 2015
Most people have no idea how quick and easy liposuction is to help permanently reduce unwanted fat. Trevor Schmidt PA-C, the liposuction specialist at MyShape Lipo now has his own talk show discussing everything one may need to know about liposuction and fat transfer. With the experience of over 15,000 liposuction procedures under his belt, Schmidt shares his experience and answers the most common questions that people have.
The talk show will air on the popular local Las Vegas radio station 95.5 The Bull at 5:00 pm during rush hour traffic. There are many misconceptions about liposuction that may hold people back from taking advantage of this simple procedure that can permanently reduce fat deposits and improve body contour.
"It was an honor to be given the opportunity to share my experience and knowledge with liposuction," says Schmidt. "This is a great media to educate people on the benefits that they can expect from liposuction. Most people don't realize how easy and affordable it is to finally get rid of the fat that has been plaguing them for most of their lives."
Schmidt discusses the services offered at MyShape Lipo, including liposuction, fat transfer and Smart Lipo laser skin tightening. He goes into detail to discuss the intricacies of each procedure and clears up many of the common misconceptions that people may have. In addition, he will share stories of patient experiences to help paint the picture for those interested in their services.
This is the perfect show for those that have struggled with diet an exercise for years, and now they are looking for an alternative to help them reach their goals. Many women struggle with their weight and body shape after they have had children, Schmidt discusses in detail how the "Mommy Makeover" can help these women get back to their normal body shape.
The mommy makeover will consist of a combination of various procedures depending on the problems that the women have with their body. Most will require liposuction to reduce areas of stubborn fat. The most commonly treated area is the abdomen and most women carry their excess fat around their waist. If loose skin is a problem, they offer Smart Lipo laser skin tightening to be used in conjunction with liposuction.
Many women also have issues with lost volume in the breasts or the butt. Typically they will develop "pancake breasts," and they are left with flat empty breasts after breast feeding. The fat transfer is the perfect solution for these problems. Fat can be taken from problem areas and transferred to the butt or the breasts for a natural enhancement to help restore what they once had prior to pregnancies.
"Most people have a little fat somewhere on their body that embarrasses them or makes it difficult to find clothes that fit," says Schmidt. "It's amazing how much confidence you get when the fat is gone."
About MyShape Lipo
MyShape Lipo is a specialty liposuction clinic located in Las Vegas, where they attract patients from around the globe to fly in for their extensive liposuction experience and affordable rates. Trevor Schmidt PA-C, the liposuction specialist has performed over 15,000 liposuction procedures on all body shapes and sizes. They offer complimentary Body Shape Analysis in person or over the phone with the aid of pictures. To schedule your consultation today, call 702-818-5476.