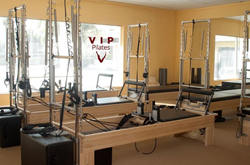 Every trainer at VIP Pilates is trained in various different Pilates formats, including Stott, Power, and Peak.
Boca Raton, FL (PRWEB) April 09, 2015
The newest, judgment-free fitness experience has opened to rave reviews, and a waiting list, in Florida. VIP Pilates is owned and operated by an 18-year veteran of the world-renowned Radio City Music Hall Rockettes. Danielle Jolie Dale is a former professional featured dancer on Broadway, and Dance Captain/Choreographer of the New York Knicks City Dancers. Jolie is currently a Professor in the Exercise Science and Theatre & Arts Departments at Florida Atlantic University in Boca Raton, where she is known formally as Professor Dale.
Jolie is responsible for the training and fitness of numerous professional basketball, baseball, hockey, and football players. Additionally, she has trained Division I athletes who have successfully transitioned into professional leagues. One of her top clients is a Professional Golfer who worked with Arnold Palmer, and has trained and worked with numerous top golfers of the day, such as Keegan Bradley. "VIP Pilates is the place where every top athlete should train if they want to stay on their game," said Jon Farnsworth, a Professional Golfer.
Jolie has brought her expertise to her new venture in Florida and is currently selecting staff with her vision. Every trainer at VIP Pilates is trained in various different Pilates formats, including Stott, Power, and Peak. She was originally trained and mentored by a Joseph Pilates elder, Kathy Grant, while attaining her Masters at New York University.
"The inspiration for VIP Pilates was based on the impact fitness and dance had in my life. I'm thrilled to be able to share it with others. Pilates is one of the activities I feel 'at home' practicing. I want to give that to my clients, students, and anyone who wants to feel safe, comfortable, and empowered while surrounded by a staff that's knowledgeable and encouraging," Jolie said.
Opened in February 2015, VIP Pilates aims to accommodate all fitness needs, while challenging visitors in every class and/or private session. The studio houses all of the latest Balanced Body Pilates equipment, as well as experienced and motivating trainers. Jolie shares that this was a purposeful decision. "Our clients are all world-class, important people. Every day, we strive to prove that we care as much about their health and well-being as they do."
VIP Pilates will also be an official training facility, hosting trainings for Pilates, Barre and Yoga. The Grand Opening is April 17-19, 2015.
For more information regarding VIP Pilates, please visit: http://www.vippilatesboca.com.
###