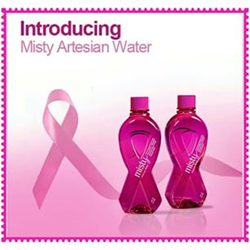 Because of you, we are here today ready to take this idea to the next level and become a company that provides wonderful products with the mission of giving back
(PRWEB) April 14, 2015
The Misty Bottle of Awareness is a unique concept, in a product, that encourages drinking water while reinforcing the importance of breast cancer research, prevention, and treatment. Misty Artesian Water has created a patented ribbon style water bottle. The company is now seeking supporters to take the concept to a large scale market by launching a crowdfunding campaign on Indiegogo.
The mission of Misty Artesian Water is to create products that inspire beauty, strength, and courage, through an item that people use every day. The ribbon shape of the water bottle is a demonstrative show of support for the breast cancer awareness movement. The water bottles are filled with artesian water filtered through Kentucky's world famous natural limestone caverns. A portion of the proceeds from the sale of the bottles go toward supporting organizations dedicated to eradicating breast cancer.
About 1 in 8 women in the U.S. will develop breast cancer during their lifetime. Over 230,000 new cases of the disease will be diagnosed in 2015 alone. Many dedicated individuals and organizations have contributed to the awareness of this cause, striving to someday have a cure. Since we are not yet at that point, more resources are required to further research and treatment efforts.
Misty Artesian Water's founder, Misty Washington, has been encouraged by the tremendous show of support for and interest in this product already. She was able to fund a first run of the bottle to test the response, which was overwhelmingly positive. There appears to be sufficient demand for this product and now financial resources are needed to meet future demand. They currently have over 40,000 bottles in stock that need to be filled water and new stock to be purchased in bulk.
The Indiegogo campaign is intended to build a stable company selling products that benefit this crucial cause, as well as grow to support many other causes and charitable organizations. This video explains in greater detail the purpose of this campaign. Misty's Brand Relationship Coordinator Shannon Burton states, "The experience up until this point has been so rewarding to our team and we would like to thank everyone for their encouragement and love of this product. Because of you, we are here today ready to take this idea to the next level and become a company that provides wonderful products with the mission of giving back."
Misty Artesian Water has a growth plan that includes expanding beyond breast cancer awareness in support of many other needs. Getting the initial funding is critical to advancing the company and its mission. Connect with their Facebook page to get information on the campaign.