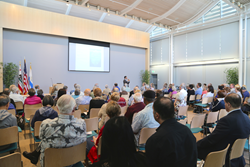 We have the control to train our brains to make new connections.
NEWPORT BEACH, CA (PRWEB) April 09, 2015
Loma Linda University department of neurology, Movement Disorders Clinic held its 2nd Annual Parkinson's Disease Patients & Caregivers Symposium on March 13. Nearly 150 patients, caregivers and family and friends of those with Parkinson's disease (PD) attended the event in Newport Beach to learn the latest and greatest developments in PD symptoms, treatment and support.
The keynote speaker, Kapil Sethi, MD, professor of neurology at Georgia Regents University in Augusta, Georgia, presented on emerging therapies for PD.
Loma Linda University Health neurologists Khashayar Dashtipour, MD, PhD, and Karen Frei, MD, both gave presentations during the event.
Dashtipour, who has been practicing movement disorders exclusively for over 10 years, spoke on ways to manage the disease. Although he has years of research under his belt, he admits he learns from his patients every day. "We have the control to train our brains to make new connections," he said.
Dashtipour emphasized that medications alone will not fully treat symptoms of PD, but rather the whole person must be treated. "Regular exercise, even walking, can change the course of the disease. And those who give up go downhill very fast." Additionally, Dashtipour suggested that a healthy diet, minimizing stress and sleeping well are all factors that can positively influence the symptoms of PD.
Frei, who has been with Loma Linda University department of neurology for over two years, informed attendees on new developments in surgical treatments for Parkinson's disease.
Shirley D'Agostino and her 56-year-old son traveled from Canyon Lake to the symposium. D'Agostino's husband was told by Dr. Dashtipour he did not have PD after being misdiagnosed and treated for five years by another physician. "Dr. Dashtipour is a real professional and very thorough," she said.
She took her son to see Dashtipour after he presented with symptoms. Dashtipour diagnosed him with Parkinson's disease in 2012 when he was just 53 years old. He continues to be seen by his regular physician who is not affiliated with Loma Linda.
D'Agostino was very satisfied with the information that was being provided to her and her son. "It's so important to get a lot of background information from these specialists that we wouldn't necessarily get from our regular doctor," she said.
In addition to the neurology clinic in Loma Linda, both Dastipour is currently seeing patients at the Movement Disorders Satellite Clinic in Newport Beach, located at 359 San Miguel Drive, Suite 105. The clinic opened in October 2014 and serves patients with a variety of movement disorders such as Parkinson's disease, tremor, gait impairments, focal and generalized dystonia, management of patients with deep brain stimulation and management of spasticity.
The Loma Linda clinic is located at 11370 Anderson Street, Suite B100. For more information about the clinics or to schedule an appointment in either clinic call 909-558-2880.
# # #