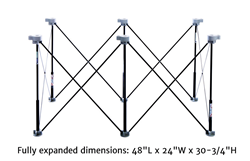 ...equally impressive in its convenience and its capability.
Medina. MN (PRWEB) April 09, 2015
Rockler Woodworking and Hardware has added the Centipede Sawhorse K100 Kit to its product selection. The K100 is an expandable lattice framework that functions as the support structure for a steady work table. The lightweight lattice framework instantly expands and contracts much like collapsible camping chairs, with the legs converging to the center in the collapsed position for easy storage and portability. Once the Centipede Sawhorse K100 is expanded, users simply lay a piece of plywood or other material across the top to create an instant work surface.
The ease of portability and setup make the Centipede Sawhorse K100 ideal for work stations that need to be set up and torn down daily or moved frequently from place to place. Beyond its utility as a work table, users can also employ the K100 to hold displays or for recreational functions such as picnics, garage sales and craft tables.
"The Centipede Sawhorse K100 is equally impressive in its convenience and its capability," says Steve Krohmer, Rockler's vice president of product marketing and strategy. "The ability for a single person to set it up virtually anywhere in seconds is as vital as its huge holding capacity. It's really easy to transport and takes up minimal space in storage."
The Centipede Sawhorse K100 is sturdy and stable enough to support up to 1,500 lbs and features six support points which are evenly spaced apart in its expanded position. It is sold in a kit which also includes two Quick Clamps, four X-Cups, and a tote bag. The Quick Clamps slide down into any of the support points and function as hold downs to secure boards or panels in position. X-Cups are typically used in pairs to cradle standard 2x4s and create instant sawhorses.
The Centipede Sawhorse K100 Kit (54554) is priced at $89.99 and can be ordered at rockler.com or Rockler Woodworking and Hardware stores nationwide. For store locations or a free catalog, visit http://www.rockler.com or call 1-877-ROCKLER.
About Rockler Woodworking and Hardware
Celebrating its 61st year as a family-run business, Rockler Woodworking and Hardware is the nation's
premier supplier of specialty hardware, tools, lumber and other high quality woodworking and
do-it-yourself products. Rockler has 29 retail locations in AZ, CA, CO, GA, IL, IN, MA, ME, MI, MN,
MO, NH, NY, OH, OR, PA, TX, WA, and WI, as well as extensive catalog and internet operations.
To learn more about Rockler, please visit http://www.rockler.com or call 1-877-ROCKLER.