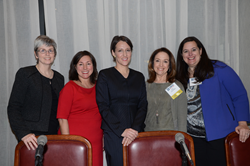 "We couldn't hold successful events like this one without dedicated support from our sponsors. We're so grateful to them for empowering us to be a highly effective resource for women in commercial real estate," said Christine Chipurnoi
New York, New York (PRWEB) April 09, 2015
More than 230 professionals attended CREW New York's sold-out event highlighting high-powered women in real estate on April 7. During the discussion, five female panelists shared how they began their careers in the real estate industry, reflected on market trends, discussed notable projects underway and provided advice to young women seeking careers in real estate.
"Women are entering the real estate field with gusto and are quickly rising in the ranks. The fact that there wasn't an empty seat in the house underscores the significance of our mission as an organization – as well as the inherent interest across New York's real estate industry – in supporting the advancement and success of women," said Jane Lyons, CREW New York co-president and a managing partner at Rhodes Associates.
The five female panelists came from a range of professional fields in real estate, from business development to client relations. The panel featured Ann Cole, managing director/portfolio manager for JP Morgan Company; Lisa Gomez, chief operating officer of L + M Development Partners; Sara Queen, senior vice president of Brookfield Properties; Sara Mirski, chief operating officer for Sam.Boymelgreen; and Laura Pomerantz, vice chairman and head of strategic accounts for Cushman & Wakefield. The panel discussion was moderated by respected reporter and real estate columnist Lois Weiss with the New York Post.
Tuesday's luncheon also supported the advancement of women with an annual clothing drive for Bottomless Closet, an organization that provides business attire for disadvantaged women looking to enter the work force. CREW New York's Charitable Fund, a certified 501(c)3 non-profit organization, provides a number of charitable and service-oriented initiatives throughout the year.
"We couldn't hold successful events like this one without dedicated support from our sponsors. We're so grateful to them for empowering us to be a highly effective resource for women in commercial real estate," said Christine Chipurnoi, co-president of CREW New York and senior vice president of Wells Fargo Insurance Services. Among CREW New York's sponsors are Trepp LLC, Durst, Cushman & Wakefield, Brookfield Properties, L + M Development Partners, JP Morgan Chase, Wells Fargo Insurance Services and Akerman LLP.
Visit http://www.crewny.org to learn more about sponsorship and membership opportunities. To connect with CREW New York via social media, follow the company page on LinkedIn or follow @CREWNewYork on Twitter.
About CREW New York: CREW New York is the largest women's real estate organization in New York City with more than 350 members. The professional group was established in 2015 to bring together two sister organizations, Association for Real Estate Women (AREW) and the New York City chapter of Commercial Real Estate Women (CREW) Network. CREW New York exists to provide outstanding educational programs and networking opportunities that support the advancement and success of women in the real estate industry. The organization offers a robust set of educational events and programs to encourage career development and growth for men and women across all segments and levels of the real estate industry. AREW was the first U.S.-based association dedicated to the professional growth of female real estate professionals.
About CREW Network: The mission of CREW Network is to influence the success of the commercial real estate industry by advancing the achievements of women. CREW Network does this by looking outward to bring more women into the industry, showcasing member successes and serving as a key resource to its members and the industry. CREW Network members represent nearly all disciplines of commercial real estate – every type of expert required to "do the deal." Members comprise more than 9,000 commercial real estate professionals in more than 70 chapters across North America. Find CREW Network on Facebook, follow CREW Network on Twitter, and visit CREW Network at http://www.crewnetwork.org.