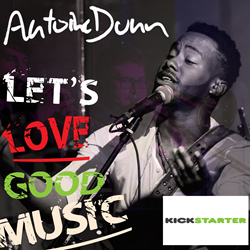 "I did the research," Dunn declares, "And I know that the goal of this campaign is obtainable. I know that I have at least 400 supporters out there. If they each pledged just $25, half of my goal will already be met!"
Cleveland, Ohio (PRWEB) April 10, 2015
Voted Cleveland's Most Interesting Singer-Songwriter 2014, Antoine Dunn is launching his "#LetsLoveGoodMusic" Kickstarter campaign to reach supporters both old and new in hopes of releasing his latest project with all the global marketing and push possible. At the forefront of the project is Antoine's new single "I'm Gonna Love You," slated for a May 26th release on Top Notch Music/Ingrooves/Universal.
"The purpose of this campaign is to put me one step closer to my ultimate goal of winning a Grammy. A new chapter of my life has been written and it involves the relationship that I share with my fans and music lovers worldwide. That is why I am reaching out to them for their support to bring this project to the masses," explains the 26 year-old singer/songwriter/performer.
The Billboard charting and National Recording Artist is still keeping music at the forefront of his heart and soul to bridge the gap of the universal human experience through his music. "Holistically, so much keeps us separated—sexual preferences, economics, neighborhoods. My goal is to help break down barriers. With songs like "Can't Forget" and "Miss My Love" placing in the Top 20 on the Billboard chart, Antoine's new single, "I'm Gonna Love You" is yet another sure-to-be chart-topper. In Dunn's own words, "The musical composition tells its own story independently of the lyrics. I'm so excited about it!"
His call to action for true music lovers is for them to help share good music with everyone they can. "I did the research," Dunn declares, "And I know that the goal of this campaign is obtainable. I know that I have at least 400 supporters out there. If they each pledged just $25, half of my goal will already be met."
The Kickstarter campaign will run for 30 days, from April 3 through May 3, 2015.
For more information visit the Kickstarter Campaign page at https://www.kickstarter.com/projects/1717358403/letslovegoodmusic
To schedule an interview or feature article, please contact niki4antoinedunnmgmt(at)gmail(dot)com
Hashtags: #LetsLoveGoodMusic / #ImGonnaLoveYou / #AntoineDunn / #WhereGoodMusicLives
Follow Antoine Dunn@ Twitter
Like Antoine Dunn on Facebook
Subscribe to Antoine Dunn on YouTube