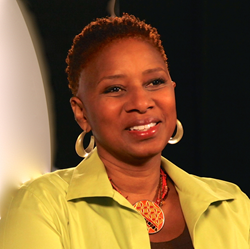 We are proud to have Dr. Thyonne Gordon's outstanding leadership as we proceed toward Pacifica Graduate Institute's 40th anniversary celebration in 2016.
Santa Barbara, California (PRWEB) April 09, 2015
Pacifica Graduate Institute is pleased to announce the election of current Board of Trustees member Thyonne Gordon, Ph.D. as Chair of Pacifica's Board of Trustees. Dr. Gordon has been an exemplary member of the Pacifica Board since she joined in 2007, serving on several committees and collaborating with other board members on various academic initiatives. Dr. Gordon succeeds Dr. Ernest Zomalt who has been a member of the Board since 1991 and served as Chair since 1997.
"I am delighted Dr. Thyonne Gordon is Chair of Pacifica's Board of Trustees," said Dr. Zomalt who will continue as a member of the Board. "We are proud to have her outstanding leadership as we proceed toward Pacifica Graduate Institute's 40th anniversary celebration in 2016."
Dr. Gordon graduated from Fielding Graduate University with a Ph.D. in Human and Organizational Development. Dr. Gordon has been active in the Pacifica community for many years. She recently spoke on the panel discussion for a Pacifica Graduate Institute Alumni Association event honoring Dr. Martin Luther King, Jr., joining other distinguished panelists including Santa Barbara Mayor Helene Schneider, First District Supervisor Salud Carbajal, and California State Senator Hanna Beth Jackson. In 2014, Dr. Gordon was featured as the host speaker for the Santa Barbara Women's Festival "Gutsy Gal" Awards ceremony, in honor of International Women's Day.
Dr. Gordon is an accomplished social profit management expert and writer. Her work with 501(c) (3) organizations has enhanced the not-for-profit sector with on-purpose success through her proven technique of S.T.O.R.Y. (Structure, Target, Ownership, Relatability and YOU). Using this technique for creating growth-oriented businesses and fundraising strategies in the 501(c) (3) arena, Dr. Gordon began this career with the A Place Called Home (APCH) youth center in South Central Los Angeles, facilitating programs in gang prevention and intervention. With a passion for youth development, she created sustainable programs for APCH including a music collaboration with Berklee College of Music in Boston and the first of its kind David and Linda Shaheen Scholarship, encouraging hundreds of youth to consider college as a future option. Continuing in youth development, she began work with the CoachArt Organization mentoring chronically ill youth in the arts and athletics. Dr. Gordon's influence with CoachArt grew the organization from a local to regional scope servicing over 1,400 children annually.
Dr. Gordon's ability to shed light on causes that bring positive impact is evidenced in the piece, From Watts to Africa, selected to showcase in the 2015 Pan African Film Festival. This documentary follows 17 youth as they journey with the organization, Foundation for Second Chances, from their home community in Watts to Senegal, Africa. Dr. Gordon is also a featured writer in Chicken Soup for the African American Soul; and she has ghost written on several projects including a recent collaboration with Grammy nominated recording artist Chante' Moore in creating her book, Will I Marry Me?
A prominent member of the philanthropic community, Dr. Gordon participates in numerous coalitions and holds appointments on various boards and committees including a gubernatorial appointment to the Naturopathic Medicine Committee of California, and is an active Board member for Project MuszEd, a Los Angeles Berklee School of Music partner. She is a member of Delta Sigma Theta Sorority, Inc. A Public Service Sorority, the Black MBA Association and the Association of Fundraising Professionals. Dr. Gordon received a number of awards, and a few include: 2013 Women Making a Difference, LA Business Journal; 2009 Girlz in the Hood Celebrate Women of Achievement Legacy Award; and 2008 Women of Distinction, California Legislature Assembly Office of the Speaker.
Dr. Gordon's gift in bringing stories of significance to light and enhancing social profit organizations for on-purpose success, is unparalleled. She has raised millions of dollars for on-purpose causes and is committed to positive, strategic and sustainable growth in the social profit sector. Dr. Gordon encourages youth and adults alike to "bloom where you're planted." You may learn more about Dr. Gordon at her website: http://www.beyond-story.com.
Pacifica Graduate Institute is honored to have Dr. Gordon as Chair of its Board of Trustees and looks forward to Pacifica's 40th anniversary celebration in 2016.
####
Pacifica Graduate Institute, with two campuses in Santa Barbara, California, is a WASC accredited graduate school offering various masters and doctoral degree programs within the context of depth psychology. The Institute has established an educational environment that nourishes respect for cultural diversity and individual differences, and a rigorous academic community with a spirit of free and open inquiry. Students have access to an impressive array of resources including the OPUS Archives and Research Center which is home to the Joseph Campbell Library and Archives.
The mission of Pacifica Graduate Institute is to foster creative learning and research in the fields of psychology, the humanities, and mythological studies, framed in the traditions of depth psychology. Consistent with and supporting this vision, Pacifica Graduate Institute is employee-owned, and practices shared stewardship.