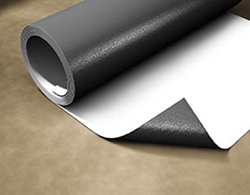 "Sikaplan Systems provide building owners with a PVC performance solution with budget benefits," said Jay W. Thomas, Vice President, Marketing, Roofing
Canton, MA (PRWEB) April 14, 2015
Sika, the worldwide market leader in thermoplastic roofing and waterproofing membranes, announced the launch of the Sikaplan® Adhered System, a cost-effective PVC roofing membrane system designed for low-slope roofing applications that call for both quality and cost-efficiency.
The new systems membrane, Sikaplan Adhered, uses a fiberglass mat reinforcement for the best dimensional stability, watertight performance and high wind uplift resistance in an adhered roofing system. Sikaplan Fastened, launched in 2007 for low-slope and steep slope applications, has an internal polyester scrim reinforcement for the best tear resistance and watertight performance on mechanically attached roof systems.
"Sikaplan Systems provide building owners with a PVC performance solution with budget benefits and a product that has a successful track record of more than 30 years on buildings throughout the world," said Jay W. Thomas, Vice President, Marketing, Roofing & Flooring, Sika Corporation.
The Sikaplan Adhered System utilizes the Sikaplan Adhered membrane and Sikaplan Water-Based Adhesive, a low VOC, water-based adhesive. The one-step adhesive is applied only to the roofing substrate and the PVC membrane is immediately laid in. Using a roller or spray equipment to apply Sikaplan Water-Based Adhesive, rather than a notched squeegee, can extend coverage rates and provide significant material cost savings without impacting contractor productivity or product effectiveness.
Sikaplan Systems are ideally suited for applications that call for a quality, cost-efficient roofing membrane system from a trusted supplier. When used with Sikaplan Water-Based Adhesive, Sikaplan Adhered can deliver PVC performance at a TPO price.
To learn more visit usa.sarnafil.sika.com or call 800-576-2358. Read this press release online here.
SIKA AG CORPORATE PROFILE
Sika AG, located in Baar, Switzerland, is a globally active specialty chemicals company. Sika supplies the building and construction industry as well as manufacturing industries (automotive, bus, truck, rail, solar and wind power plants, façades). Sika's product lines feature high‐quality concrete admixtures, specialty mortars, sealants and adhesives, damping and reinforcing materials, structural strengthening systems, industrial flooring, as well as roofing and waterproofing systems. Worldwide local presence in 80 countries and more than 16,895 employees link customers directly to Sika and guarantee the success of all partners. Sika generated annual sales of CHF 5.57 billion in 2014. For more information about Sika Corporation in the U.S. including Canton, MA, visit http://usa.sarnafil.sika.com/
###