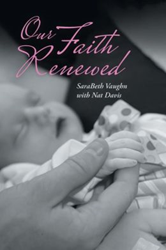 Our Faith Renewed is about real people with real problems serving a real God.
Gainesville, FL (PRWEB) April 09, 2015
CrossBooks is pleased to announce the nationwide release of Our Faith Renewed by SaraBeth Vaughn, with Nat Davis. Her third child, a daughter named Faith, lived only 42 minutes after delivery having been diagnosed at twelve weeks gestation with a fatal birth defect. Uniquely told from the perspectives of SaraBeth and her husband, Rob, the book addresses sanctity of life issues, a marriage in crisis amidst tragedy, and the God whom the Vaughns now seek to glorify through their story of redemption.
In 2011, doctors advised SaraBeth and Rob to terminate their pregnancy, deeming the child "incompatible with life." Instead, the couple trusted God's plans for Faith, carrying her to full term. Constantly changing medical assessments proved to the doctors and expecting young parents that God would have the final say in what transpired. At the same time, their marriage suffered tremendously as the present struggle stirred up past hurts including adultery and pornography. However, God's grace prevailed over Satan's attacks, and today the Vaughns believe Faith's 42 minutes of life have made a greater impact on them and those around her than some people who live to be one hundred.
"That year spelled the greatest trial of our lives, but God brought us back together to serve Him and share our story in hopes of encouraging someone else and to testify to the goodness of our Savior," said SaraBeth. "Our Faith Renewed is about real people with real problems serving a real God. No matter what you face in life, there is nothing that is too powerful to be covered by the blood of Jesus Christ. He is willing and able to work in your life, if you just allow Him to. A fire has been kindled in our souls to reach people with the gospel of Jesus Christ, and it all started with a tiny baby."
CrossBooks publisher Paul Mikos added, "We learn from the Vaughns that through anything—child loss, marital problems, whatever—God can be trusted through all the storms of life. He is the one who renews. He is the Redeemer."
Our Faith Renewed is now available online through CrossBooks onLifeWay.com, as well as Amazon, Barnes & Noble, and other major retailers.
SaraBeth Vaughn and her husband, Rob, are the parents of Cade, SaraGrace, Faith, and Emmy. She is passionate about people, and her greatest desire is to honor God with her life by sharing the love of Jesus with everyone she knows. The Vaughns live in Florida.
An imprint of B&H Publishing Group, CrossBooks offers a unique blend of traditional and self publishing. It serves a variety of Christian writers, from established authors to Christian leaders and first-time authors. As a ministry of LifeWay Christian Resources, CrossBooks is committed to unwavering principles of excellence and Christian faith. For additional information, please visit http://www.crossbooks.com.