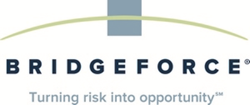 Chadds Ford, PA (PRWEB) April 09, 2015
Bridgeforce, a specialized multi-national consulting firm, analyzes the challenges and complexities innate to financial institutions' handling of consumer bankruptcies with the release of a white paper that outlines an enterprise approach to close the gap between the product-centric view of financial institutions and the more holistic view of the bankruptcy courts while minimizing compliance risk.
The new Bridgeforce white paper entitled "Shining the Light on Antiquated Consumer Bankruptcy Processes" highlights how the variances that exist at the case, jurisdiction and state level in combination with the inherent vulnerability of bankrupt customers have contributed to growing scrutiny from the U.S. Trustee Program and Bankruptcy Courts.
"While higher visibility issues such as Consent Orders, Fair Lending, and SCRA have taken much of the spotlight, consumer bankruptcy has crept up as a persistent industry challenge" said Brian Reiss, President of Bridgeforce. "The financial industry has long been playing with the wrong players on the field with the wrong equipment in this space and the time to address these challenges is now."
Key sections of the paper include:

Ensuring that highly skilled resources, with a mix of legal and operations backgrounds, are in place to manage the complexities of the Federal Bankruptcy Code and Rules
Descriptions of best practices to mitigate common challenges faced across the industry including automated notification and case updates, required accounting/payment tracking capabilities and content verification practices, among others
Elements of a Centralized Customer-Centric Bankruptcy unit to manage/oversee the bankruptcy process from notification to discharge or dismissal
Just last month, a $50 million settlement between JPMorgan Chase and the U.S. Trustee Program further supported the need for ongoing attention in this segment as Cliff White (USTP Director) stated "This settlement should signal once again to banks and mortgage servicers that they cannot continue to flout legal requirements, compromise the integrity of the bankruptcy system and abuse their customers in financial distress. … Other servicers should take note that the U.S. Trustee Program will continue to police their practices and will work to ensure that those who do not comply with bankruptcy law protections for homeowners will pay a price."
Financial institutions are facing impending scrutiny surrounding consumer bankruptcy. Kurt Kline, Managing Partner of Bridgeforce Law, P.C. warns institutions to "Maintain focus on the fact that people declaring bankruptcy can be significantly vulnerable and financially distressed, and errors will not be tolerated by regulators."
About Bridgeforce Inc.
Bridgeforce is a specialized multi-national consulting firm serving a variety of clients involved in almost all aspects of the consumer and small business lending and payments space. Over 75 percent of Bridgeforce consultants come directly from client-side leadership positions across multiple parts of the credit lifecycle. Combined with subject matter expertise in operations, technology, strategy and regulatory issues, Bridgeforce has the knowledge and experience to make the hard choices in developing and implementing best-fit solutions that are both achievable and lower the risks of execution to ensure sustainability. Bridgeforce success can be attributed to a culture fostering innovation and evolving experienced-based best practices recognized within the industry. For more information, visit http://www.bridgeforce.com.
About Bridgeforce Law, P.C.
Bridgeforce Law is a boutique law firm focused on financial services, working with a variety of companies with legal and/or operational issues related to consumer and small business lending and payments. Bridgeforce Law works collaboratively with clients to provide legal and practical solutions, and will frequently call upon consultants when real-life operational experience will provide an enhanced client experience and help move business forward. For more information, visit http://www.bridgeforcelaw.com.