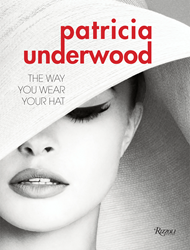 I started making hats because I wanted hats a woman could wear.
Washington, D.C. (PRWEB) April 09, 2015
RIZIK'S, the home of designer fashion and couture in the nation's capital for more than a century, personally welcomes two of its hottest designers to its downtown Washington location where they will show their latest hat and jewelry designs and meet RIZIK'S customers to share the visions and creativity behind their unique, exclusive and exquisite fashion creations.
Patricia Underwood
Internationally recognized milliner Patricia Underwood, who started designing hats "because I wanted hats a woman could wear", will show her Spring 2015 collection and sign advance copies of the new book "PATRICIA UNDERWOOD: The Way You Wear Your Hat" by Jeffrey Banks and Doria de La Chapelle, April 11 from 11:00 a.m. to 4:00 p.m. at RIZIK's, located at Connecticut & L NW, across from the Farragut North Metro. The hardcover 9" X 12" publication presents a visually stunning and informative look at the transformative powers and possibilities of the hat. In the book, Underwood shares the sources of her inspiration, including art, cinema and the history of fashion.
The 192-page book features 150 color and black and white photographs of hand-made top hats, visors, wide-brimmed hats, berets, fedoras, turbans, trilbies, sun hats and more. It explores Underwood's more than 40 years of collaborations with designers like Ralph Lauren, Oscar de la Renta, Marc Jacobs, Donna Karan, Calvin Klein, Isaac Mizrahi and others, including work for the stage and screen. The book includes work by some of the world's greatest fashion photographers, including Richard Avedon, Horst, Irving Penn, Barry Lategan, Annie Liebovitz and Bruce Weber.
Robin Steele
Jewelry Designer Robin Steele will be at Rizik's downtown Washington location April 18 from 10:00 a.m. to 4:00 p.m. to showcase her spring 2015 collection. She will be available to discuss custom creations for clients and tell the stories of inspiration behind her designs. RIZIK'S is the exclusive Robin Steele distributor in the Washington metropolitan area.
Handcrafted in the New York fashion district, jewelry from Robin Steele always makes a fashion statement by fusing old and new through the use of antique glass intaglios, cameos and cabochons. She grew up in New York City blocks from the Metropolitan Museum of Art, where she was exposed to many of the world's historical treasures and garnered degrees in both Art History and Fashion Merchandising. Fascinated by the beauty, strong imagery and sense of history that old glass intaglios encapsulate, she proceeded to create jewelry that fuses old and new. Robin Steele's jewelry does not imitate the old; rather, it innovates to express new fashion ideas through the use of wonderful old glass stones.
All of Robin's creations are carefully assembled and hand made in New York from American suppliers. Drawing inspiration from ancient architecture, ornamentation and mythology, her designs are strong and feminine.
ABOUT RIZIK'S
Founded in 1908, for more than a century RIZIK'S has remained Washington's leader in women's fashion and couture featuring international designers, unmatched personal service and an exquisite selection of bridal, eveningwear, outerwear, furs, sportswear, business attire and accessories. A local, family-owned business, Rizik's has a history of serving the leading women of official Washington society and is building on that legacy today by serving fashion-conscious women of all ages in sizes 2-22. Visit Rizik's at http://www.riziks.com.
Book Infomation
Hardcover / 192 pages / 9" x 12" / 150 color & b/w photographs / $50 U.S. ISBN: 978-0-8478-4478-4 / Publication date: May 2015 © Patricia Underwood: The Way You Wear Your Hat by Jeffrey Banks and Doria de La Chapelle, Rizzoli New York, 2015.