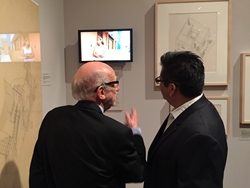 San Diego, Calif. (PRWEB) April 09, 2015
When Woodbury University's Karen Hiagdera, Blas Herrera and Dhruva Panchal -- members of the School of Architecture's Landscape Urbanism Graduate Class, 2012-13 -- returned from a trip to Peru two years ago, they brought back a video short the team created of the 1968 housing project PREVI (Proyecto Experimental de Vivienda).
Now, that film has been included in "Latin America in Construction: Architecture 1955-1980," a major retrospective at the Museum of Modern Art in New York (http://www.moma.org/visit/calendar/exhibitions/1499).
In 2013, Woodbury graduate students from the Master of Science in Architecture program (with an emphasis in Landscape+Urbanism) traveled to Lima as part of the program's second semester studio project. While in Lima, the students produced a short video, PREVI_45 Years after its conception, revisiting PREVI, which was developed in the 1960s and stands as one of the most important housing projects in Latin America during the 20th Century.
"This is an unprecedented exhibit of Latin American architecture, and we're honored that Woodbury student work has been incorporated into it," said Rene Peralta, Landscape+Urbanism Program Director, School of Architecture, at Woodbury's Barrio Logan campus in San Diego. "This latter-day chronicle of the PREVI project tells an important story in a compelling way, and contributes to a broader understanding of architecture in Latin America."
Shot on location, the film consists of a series of interviews with longtime residents of the project and with prominent academics from Peru's Escuela Nacional de Ingenieria. The film samples opinion from users and architects alike, and explores the controversial realities of self-built housing, in what designers and architects intended to be a completely controlled environment. PREVI_45 Years after its conception is a testimony of how social housing and city planning are engaged by both top-down and bottom-up efforts. The short film is being exhibited on a screen in the PREVI section of the exhibition along with original drawings of the project. This film is the only contemporary visual of the complex within the exhibition.
Latin America in Construction: Architecture 1955-1980 brings together a wealth of original materials that have never before been displayed under one roof and, for the most part, are rarely exhibited even in their home countries. On the 60th anniversary of its last major survey of modern architecture in Latin America, The Museum of Modern Art has returned its focus to the region with "Latin America in Construction: Architecture 1955–1980," a complex overview of the positions, debates, and architectural creativity from the Rio Grande to Tierra del Fuego, from Mexico to Cuba to the Southern Cone, between 1955 and 1980. On view March 29 through July 19, 2015, Latin America in Construction is organized by Barry Bergdoll, Curator, and Patricio del Real, Curatorial Assistant, Department of Architecture and Design, MoMA; Jorge Francisco Liernur, Universidad Torcuato di Tella, Buenos Aires, Argentina; and Carlos Eduardo Comas, Universidade Federal do Rio Grande do Sul, Porto Alegre, Brazil; with the assistance of an advisory committee from across Latin America.
About Woodbury University
Founded in 1884, Woodbury University is one of the oldest institutions of higher education in Southern California. It offers bachelor's degrees from the School of Architecture, School of Business, School of Media, Culture & Design, and College of Transdisciplinarity, along with a Master of Arts in Media for Social Justice, Master of Architecture (MArch), Master of Interior Architecture (MIA), Master of Science in Architecture (MSArch), and Master of Leadership. The San Diego campus offers Bachelor of Architecture and Master of Architecture degrees, as well as an MSArch degree with concentrations in Real Estate Development and Landscape + Urbanism. Woodbury ranks 15th among the nation's "25 Colleges That Add the Most Value," according to Money Magazine. Visit http://www.woodbury.edu for more information.