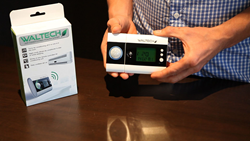 On average, studies show an air conditioner used 8 hours a day will waste at least 30% of the energy consumed by cooling or heating rooms with no one in them. In fact, some studies show up to 80% of air conditioning energy can be wasted heating or cooling
Gold Coast, Australia (PRWEB) April 10, 2015
Electricity bills across the globe are on the rise, leaving many homeowners and businesses looking for creative ways to reduce their power usage. According to Canstar Blue research (reference 1), 65% of Australians say they have cut back on using electrical appliances in the past year for financial reasons.
Enter Waltech, an air conditioner controller that curbs electricity wastage by shutting off air conditioning in rooms not being occupied. On average, our study showed that an air conditioner used 8 hours a day wasted at least 30% of the energy consumed by cooling or heating rooms with no one in them. In fact, some of our studies showed up to 80% of air conditioning energy can be wasted heating or cooling empty rooms.
The new Waltech device uses motion detecting technology to sense whether anyone is present in the room. If it senses the room is empty, it will switch the air conditioner off automatically. If a user returns, they can simply switch on the A/C again with the normal remote. There's also a built in light sensor that detects if a room is dark and if so can allow the air conditioner to stay on even if no movement is detected - this allows it to work effectively in bedrooms.
Waltech has been designed to operate in hotel accommodation, homes, offices, public buildings and schools – basically anywhere there's an infrared remote-controlled A/C being used.
The new power saving device has been twelve months in the making, and is currently seeking Indiegogo crowd funding to go into production of the size and scale to make pricing more affordable.
Data from extensive trialling shows Waltech delivering promising results in substantial power bill reduction. Considering the average 7 kW split system air-conditioner produces carbon emissions of approximately 1.5kg per hour, the device can potentially save literally tonnes of extra carbon dioxide polluting the atmosphere due to wasted electricity each year –– not to mention thwarting those ballooning power bills. According to Origin Energy (reference 2), Air conditioners can be one of the biggest users of electricity. They further state that the first point for saving electricity is that air conditioners are turned off when areas are not being occupied.
Waltech's Craig Walsh said developing the product had been a big undertaking, but is adamant the device will make major inroads in delivering electricity savings across a range of commercial and domestic settings. "It's taken a lot to reach this point. Three electrical engineers, twelve months of research and development, thousands of dollars already invested, and thousands more still needed. We've piloted the product in hotel rooms and homes for over six months, and results have shown big savings on power bills with no reported problems for their guests."
"After extensive testing across a range of real life situations, we now have a market ready product. But to manufacture Waltech in the kind of volume that would ensure we can scale the product to be affordable for everybody, we need outside support."
Waltech's Craig Walsh is optimistic that the company's Indiegogo campaign, launching online this week at indiegogo.com, will be well received by consumers who are looking for power saving devices or are eager to support green initiatives. Supporters of the company on the crowd funding site will be rewarded with a Waltech device for pledges as little as US$70. This price for our early backers is a significant discount to the retail price of US$199.
"We've worked out that the device will pay itself off in energy bill savings in less than six months in a commercial setting, and under twelve months in a home setting," Craig said. He confirmed early interest in the product had been greatest from hotels and accommodation providers, but expects demand from homeowners and the corporate sector to be similarly sizable. "We've been getting lots of enquiries from air conditioner installers, as if you're building a new home and buying a $1,000-$2,000 air conditioner, a Waltech unit is comparably a very small investment with great returns," Walsh said, adding, "In office situations, many workers turn on the air conditioning as soon as they arrive in the morning. It's not uncommon to see air conditioners operating all day to cool down rooms that are only used for brief periods, such as meeting rooms or staff rooms. So for both homeowners and business owners, it makes smart financial sense to have power saving devices like Waltech installed to ensure air conditioners are turned off when not required."
Indeed, a recent study by Waltech has shown that turning off the air-conditioner in empty rooms can save more than half the air conditioner energy costs.
Switching an air conditioner off when not required can also increase the overall product life, as an air conditioner's expected lifespan is dramatically reduced if it runs for extended periods of time without being turned off.
To find out more about Waltech's Indiegogo campaign, visit:
https://www.indiegogo.com/projects/waltech-airconditioner-power-saver--3
Reference 1 - Canstar Blue (http://www.canstarblue.com.au/utilities/aussies-struggling-to-pay-power-bills-on-time/)
Reference 2 - Origin Energy (http://www.originenergy.com.au/4397/Heating-ventilation-and-air-conditioning)