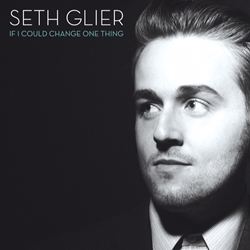 "Singer with an exquisite tenor echoes Bruce Springsteen and Billy Joel." – USA TODAY
New York, NY (PRWEB) April 09, 2015
Singer/songwriter, multi-instrumentalist and activist Seth Glier has been consistently honing his craft over the course of his young career, leading up to the April 7th release of his latest album, If I Could Change One Thing (MPress). The album debuted in the top 50 on the Singer Songwriter album chart on iTunes and American Songwriter featured Glier as a "Daily Discovery" artist on the homepage of the site. Billboard.com premiered the music video to the title track "If I Could Change One Thing" featuring American Idol's Crystal Bowersox on April 8th.
Glier kicked off an extensive headlining US tour March 28th in Connecticut in advance of If I Could Change One Thing, and will continue across the East Coast through April and May. Full list of tour dates are below.
On his newest album, Glier leans towards a genuine modern-pop direction, marking a bold departure from his previous, more acoustic recordings. If I Could Change One Thing merges genres seamlessly, with universal songs about falling in and out of love and social action that capture a songwriter and performer at the peak of his young abilities. Available now via iTunes and the MPress Records store.
Glier's recent session for tastemaker music blog Daytrotter is live and offers listeners a great sampling of tracks from the new album. Listen to three exclusive songs here.
On this new release, the gifted young troubadour has teamed up with producer Bill Lefler (Ingrid Michaelson, Joshua Radin). "This album is one I am most proud of to date," says Glier. "Making If I Could Change One Thing was such an inspired process from writing almost 100 songs throughout the year to recording my favorite twelve in LA with Bill." Leffler notes, "It's not often you get to work with an artist with such musicality and real ability. Seth is a true stand out. A true musician, songwriter and singer."
On tour, Glier performs with a non-traditional lineup, which includes Marc Seedorf (Stephen Kellogg, J. Mascis) on bass and Joe Nerney, a blind, 62-year-old sax player, whom Glier met when he was 15. Nerney's contributions add another layer to Glier's captivating live show. "Each performance when I look to my left and see Joe slaying the audience with a solo and I watch him smile after the audience applauds, it remains to be the most authentic thing I've ever seen in my life," admits Glier.
Glier attended and performed at the Folk Alliance in Kansas City and on February 18, 2015 he performed on Fox's Kansas City Morning Show, to start off the music festival. Check out the clip here.
In addition, a key element of Glier's music and life in general is activism and autism awareness. He is an advocate for Musicians On Call and a LIVE! artist partner for ChildFund International who has helped hundreds of children find sponsors. He is also very involved with his non-verbal autistic brother and is focused on sharing his ways of communicating to the non-verbal through music.
At only 26 years old, Glier has released three albums prior to If I could Change One Thing, including his Grammy®-nominated sophomore album The Next Right Thing, and the critically praised I Should Let You Know. Glier has shared the stage with artists as diverse as James Taylor, Ani DiFranco, Edwin McCain, Martin Sexton, Emmylou Harris and Ryan Adams, and has quickly become known for his passionate live sets and powerful command of both piano and guitar.
Tour Dates:
April 10 Iron Horse Music Hall Northampton, MA
April 11 The Strand Theater Rockland, ME
April 15 Jammin Java Vienna, VA
April 16 Baldwin's Station Sykesville, MD
April 17 Rockwood Music Hall New York, NY
April 18 The Linda Albany, NY
April 19 Cadyville Concert Hall Cadyville, NY
April 23 S.P.A.C.E. Evanston, IL
April 24 Seven Steps Up Spring Lake, MI
April 25 Seven Steps Up Spring Lake, MI
April 26 The Ark Ann Arbor, MI
April 30 The Basement Nashville, TN
May 1 Eddie's Attic Dectur, GA
May 2 The Evening Muse Charlotte, NC
May 7 Bridge Street Live Colinsville, CT
May 9 Club Passim Cambridge, MA
May 10 Tupelo Music Hall Londonderry, NH
May 15 Folkus Project Syracuse, NY
May 29 Kerrville Folk Festival Kerrville, TX
For more information on Seth Glier, visit his website: http://www.sethglier.com
Like him on Facebook here: http://www.facebook.com/sethgliermusic
Follow him on Twitter here: http://www.twitter.com/sethglier