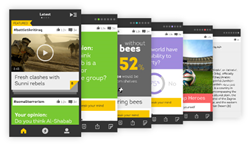 We constantly strive to create a WOW-effect with our solutions, and achieve it by pushing the boundaries of technology and combining it with design in a creative way.
Helsinki, Finland (PRWEB) April 09, 2015
Leading creative design technology firm, Ixonos today announced that AJ+, the mobile news service it developed for Al Jazeera America is among the ten finalists shortlisted for the World's Best-Designed™ digital news product award, hosted by the international Society of News Design (SND).
AJ+ joins other award finalists including Facebook, Twitter, YouTube and Harvard Law Review, to name a few. The final winner(s) will be named at a gala celebration on April 11 at the Newseum in Washington, D.C.
"Technological supremacy is only half of the equation," said Sami Paihonen, senior vice president of Ixonos. "We constantly strive to create a WOW-effect with our solutions, and achieve it by pushing the boundaries of technology and combining it with design in a creative way. We credit this holistic design approach for bringing AJ+ to life."
Launched in September 2014, AJ+ was designed to reach, engage and empower young adults who have grown up in the era of social media. The pioneering digital news product has gained a strong foothold amongst its target demographic, 18 to 30 year olds. Ixonos designed both the digital user experience as well as technical implementation for AJ+.
User experience like flipping through a deck of cards
AJ+ was designed to provide an innovative, contemporary browsing logic, reflective of the way its target demographic consumes news and information. Instead of offering the standard, monotone list of news, the service displays each news item like a deck of cards, easily browsable with mobile devices.
"We designed these 'stacks of cards' to incorporate various content types per news item. One card contains video, the second provides a forum for discussion, the third features infographics and the final includes interactive elements such as quizzes," explains Tom Morgan, senior visual designer for Ixonos.
Proven UX design experts
Over the past several years, Ixonos has worked hard to develop benchmark-setting design-based solutions that seamlessly integrate with applications development. 
AJ+ is one of many successful UX design projects completed by Ixonos. The award-winning company has designed and developed forward-thinking solutions for some of the world's biggest brands, having recently won Best of Show at CES for HP "Sprout" and CES Innovation of the Year for Samsung Tab S 8.4 for 'Super App' Multi-tasking. Ixonos' team of multi-disciplinary experts in software and service design work towards better user experiences from their design studios in Helsinki, London, New York and San Francisco.
For more information, please contact:
North America: Sami Paihonen, Vice President of User Experience Design, +1 408 620 0030 sami(dot)paihonen(at)ixonos(dot)com
Europe: Teppo Kuisma, Senior Vice President, +358 50 581 4075 teppo(dot)kuisma(at)ixonos(dot)com
About Ixonos
Ixonos is a creative technology company. We dream, design and deliver powerful user experiences and sustainable solutions based on Internet, cloud and mobile technologies. We realise innovative dreams with unparalleled design and impeccable technical delivery. Our customers are leading brands across the globe. Our value stems from our ability to design comprehensive digital solutions that increase competitiveness, productivity and customer loyalty. We're designers, engineers, strategists, innovators; 300 individuals working together in Finland, Great Britain and North America. Ixonos Plc is listed on NASDAQ OMX Helsinki Ltd.
All trademarks are property of their respective owners.