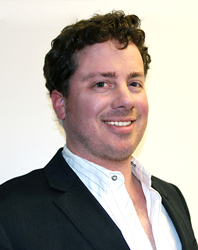 "We can't work with this diverse group of young adults by using old approaches. Creating a relationship with, and marketing to the millennial generation demands a new set of rules."
Salt Lake City, Utah (PRWEB) April 09, 2015
Sean Nickerson, CMO of TrackResults Software, will be speaking on a panel at the premier annual ARDA World this April. This four-day event will bring more than 3,000 timeshare professionals from over 35 countries to meet in Orlando, Florida at the Orlando World Center Marriott for this and other forums, receptions, and important networking opportunities.
More than 40 educational sessions, covering a spectrum of timeshare- industry trends, best practices, and top products, will be presented. One noteworthy trend in the industry that will be addressed by Mr. Nickerson's panel regards the young generation of timeshare owners who are inheriting timeshares without a foreknowledge of how to best use them. This diverse group of millennials represents a prime opportunity for timeshare professionals to offer education for these up-and-coming owners will need to best manage their valuable inheritance.
"We've come to realize that the once-traditional marketing techniques we used in the past aren't a prime resource for targeting millennials," Sean Nickerson said. "We can't work with this diverse group of young adults by using old approaches. Creating a relationship with, and marketing to the millennial generation demands a new set of rules."
Sean Nickerson of TrackResults experience as an industry analyst and his report on buying habits of millennials has proved valuable to the discussion. Mr. Nickerson, along with several other esteemed professionals, will be speaking on an educational panel addressing the why's and how's of creating a relationship with and marketing to millennials in the timeshare and vacation-ownership industry. The panel will commence at 9:00 a.m. in room Crystal P/Q of the Orlando World Center on April 15th. TrackResults Software participates in ARDA World every year and offers their contributing knowledge to an industry that is ever growing and evolving.
More About Track Results
TrackResults Software is a Utah based software company that offers business-intelligence solutions for the vacation industry. The company's mission is to provide a powerful tool for decision makers to access reports, identify trends, opportunities, challenges, and actionable information in order to boost business performance. TrackResults delivers users a uniquely fast, customizable view of figures right when they need them. TrackResults Software is a Chairman's League Member of American Resort Development Association, a member of the Resort Development Organization, Better Business Bureau, Resorts of Distinction, Resort Developers Association, Cooperative Association of Resort Exchangers, AMDETUR, and The Utah Technology Council.