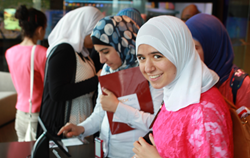 Attending iD Tech Camps is an integral part of the TechGirls experience in Washington D.C....Programs like these prepare the girls to share their skills with their local communities. --Mary Helmig, Vice President of Legacy International
Campbell, CA (PRWEB) April 10, 2015
This summer, TechGirls will continue its initiative to empower girls from the Middle East and North Africa with the help of iD Tech, the leading provider of summer STEM (Science, Technology, Engineering, and Math) education. TechGirls is an initiative of the U.S. Department of State's Bureau of Educational and Cultural Affairs, administered by Legacy International, in collaboration with iD Tech.
Since June 2012, TechGirls has guided teenage girls from Algeria, Egypt, Jordan, Lebanon, Libya, Morocco, Palestinian Territories, Tunisia, and Yemen to Washington, D.C. as part of a three-week exchange program. This summer, five U.S. girls will join the 27 international participants to spend a week at iD Tech Camps, a co-ed summer program for students ages 7-17. iD Tech will provide full scholarships to the five U.S. girls selected to join the program. Girls can apply now through May 2nd at https://www.surveymonkey.com/r/techgirlsusa.
"Attending iD Tech Camps is an integral part of the TechGirls experience in Washington D.C.," says Mary Helmig, Vice President of Legacy International. "At this innovative summer technology program, girls develop valuable STEM skills and build long-lasting relationships with girls from different backgrounds. Programs like these prepare the girls to share their skills with their local communities."
As part of the TechGirls program, each participant returns to her home country to transfer skills and knowledge to more girls. By including five girls from the United States, the program seeks to inspire international friendships and initiate a vital exchange of perspectives.
iD Tech's partnership with TechGirls aligns with both its core values and its desire to globally increase the number of girls involved in STEM education. "We hope that their weeklong experience is the spark of a much bigger movement," says Pete Ingram-Cauchi, CEO of iD Tech. "Our programs provide students with the tech skills they need to thrive. What's inspiring is seeing how the girls will share technology within their own communities and countries—and to watch the girls build bonds with each other that will last a lifetime."
TechGirls have returned home to share their knowledge and skills with more than 2,700 girls in the Middle East and North Africa. With iD Tech's increased support that number will continue to grow in the years to come.
About iD Tech
iD Tech is the leader in summer STEM education programs for students ages 6-18. Over 200,000 students have attended iD Tech since 1999. The camps are held at over 100 prestigious campuses nationwide, including Stanford, Rice, MIT, Caltech, University of Denver, Bryn Mawr, and many others. In addition to iD Tech Camps for ages 7-17, the company also offers an all-girls program for ages 10-15, half-day camps for aspiring innovators ages 6-9, 2-week, pre-college academies for teens ages 13-18, and an innovative online learning experience called Tech Rocket. To learn more visit iDTech.com.
About TechGirls
TechGirls is a U.S. Department of State initiative that brings 27 young women (ages 15-17) from Algeria, Egypt, Jordan, Lebanon, Morocco, Palestinian Territories, Tunisia, Libya, and Yemen to the U.S. for a 3-week international exchange program. It is designed to empower young girls from the Middle East and North Africa to pursue careers in science and technology. Established in 1979, Legacy International is a non-profit educational organization. Legacy International has consultative status with the United Nations Economic and Social Council. To learn more visit the TechGirls Facebook page.