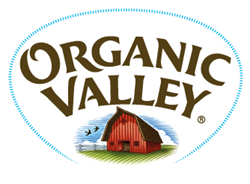 "We had strong growth, good profits, raised the pay price to farmers and rolled out some great new products."
La Farge, WI (PRWEB) April 09, 2015
Organic Valley, the nation's largest cooperative of organic farmers and a leading organic brand, concluded its Annual Meeting, which drew nearly 400 farmer-owners to La Crosse, Wis., April 6-9. With the theme "Resilience Through Cooperation," key topics addressed throughout the meeting centered around 2014 as a year of resiliency and growth in the rapidly expanding organic marketplace.
"2014 was quite a year," reflected George Siemon, founding farmer and CEIEIO for Organic Valley. "We had strong growth, good profits, recovered from our 2013 headquarters fire, raised the pay price to farmers and rolled out some great new products. Looking ahead, we continue to struggle with and plan for the surge in organic sales, shortages on store shelves, feed shortages on the farm and intense competition for farm milk."
Meeting attendees engaged in key co-op member topics such as farmer recruitment, attrition, farm succession, the proposed organic promotion board and of course, how organic fits into the federal system. "It's democracy in action," said Arnie Trussoni, president of the all-farmer board of directors. "Our ability to agree to disagree through these challenging discussions helps our cooperative remain resilient."
There was much to celebrate at Organic Valley's Annual Meeting. In 2014, the farmer-owned co-op had record sales of $972 million and a profit of $14.5 million, proving that its business model can withstand market fluctuations. The co-op implemented a record increase in farmer pay price, which went up in most regions by 10 percent, on average. Organic Valley also added 65 jobs, ending 2014 with 802 staff.
The co-op continued to invest in programs that encourage young farmer retention—a critical part of Organic Valley's member base. This year, the co-op presented its 2015 Generation Organic™ (Gen-O) Award to Emily and Tim Zweber of Zweber Farms in Elko, Minn., for their leadership, stewardship and continued commitment to organic farming.
"Organic Valley's cooperative structure allows young farmers like us a voice and the opportunity to be involved in leadership," said Emily Zweber. "We have access to a tremendous support system of veterinarians, nutritionists, agronomists, animal care specialists and our fellow Organic Valley farmers. This is such a positive shift from where we came from before joining the co-op."
"There's a culture of community in our co-op," added Tim Zweber. "We're all family and friends. That culture keeps us focused on what's best long-term and really supports us through the ups and downs."
As consumers continue to pay premiums for quality, Organic Valley farmers remain committed to producing the industry's highest-quality products. As a testament to this commitment, the co-op presented more than 600 Quality Awards to farmer-owners at the Annual Meeting awards banquet on April 8. This honor recognized producers of dairy, produce, soy, eggs, feed and meat for achieving high quality standards.
For milk quality, "Cream of the CROPP" awards were given to dairy farmers with the best milk quality in each of Organic Valley's six regions:

Northeast: Allan and Karen Bathalon, North Troy, Vt.
Mideast: David & Karen Vander Zanden, Casnovia, Mich.
North Central: Ammon R. and Eileen R. Martin, Memphis, Mo.
Wisconsin: Kevin and Mary Jahnke, Jahnke Family Farm, Lancaster, Wis.
West: Randy and Kim Peterson, Arlington, Wash.
South: Christian E. and Lydia Z. Beery, Dayton, Va.
The co-op (also known as Cooperative Regions of Organic Producer Pools, or CROPP), gave this year's new Organic Heroes Award to dairy farmers Jack and Anne Lazor of Vermont. The Lazors, organic pioneers and leaders since the mid-1970s, are well-known in New England for their outstanding yogurt, Butterworks. Although they are not members, the co-op is proud and honored to recognize their unique contributions to organic food and farming.
Other noteworthy Annual Meeting highlights and recognitions included:
Organic Valley farmers produced nearly one million kilowatts of clean, renewable energy in 2014, nearly double 2011 figures
Organic Valley Pasture Butter, churned in Chaseburg, Wis., won first place in the 2015 United States Championship Cheese Contest, among other Organic Valley 2014 awards
First-ever organic milk protein shakes released in the market, available in award-winning Balance and Fuel varieties
First organic snacking cheese for adults, available in award-winning medium cheddar and pepper jack varieties
Organic Valley: Independent and Farmer-Owned
Organic Valley is America's largest cooperative of organic farmers and one of the nation's leading organic brands. Organized in 1988, it represents approximately 1,800 farmers in 36 states. Focused on its founding mission of saving family farms through organic farming, Organic Valley produces a variety of organic foods, including organic milk, soy, cheese, butter, spreads, creams, eggs, and produce, which are sold in supermarkets, natural foods stores and food cooperatives nationwide. With its regional model, milk is produced, bottled and distributed right in the region where it is farmed to ensure fewer miles from farm to table and to support our local economies. For further information visit http://www.organicvalley.coop. Organic Valley is also on Twitter @OrganicValley and Facebook http://www.facebook.com/OrganicValley.