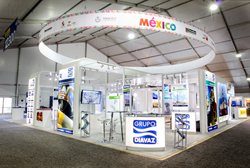 Absolute Exhibits has just released the latest version of the international pavilions catalog, Worldwide Pavilion Brochure.
Tustin, CA (PRWEB) April 09, 2015
Absolute Exhibits, a trade show builder, has just released the latest version of the international pavilions catalog, Worldwide Pavilion Brochure. This is homage to the trade show pavilion, small and large, at all major industry international trade shows throughout the United States. This brochure ushers prospective clients through design, rendering, and final project photographs of the innumerable pavilion projects completed by Absolute Exhibits.
As a leader in informational resourcing for the entire exhibition process, Absolute Exhibits, has completed projects for many government agencies from South America including Brazil, Chile, Argentina, Columbia, and Peru and Central America including Panama, Ecuador, and Costa Rica. Additionally, pavilion exhibits have been built numerous times for Germany, Italy, Belgium, the UK, and most recently Norway. Taiwan, Japan, and Korea have also been serviced, as have South Africa and Morocco.
Pavilion building is quite a different element on the trade show floor. Last minute adjustments for new or non-existent exhibitors must look seamless to the public. Pleasing everyone at the same time in many foreign languages can e difficult, However Absolute Exhibits makes certain that every foreign visitor is made comfortable and can remain calm on the tradeshow floor. Absolute Exhibits also builds for many states and industries. With offices and manufacturing in Europe, American companies can be accommodated while working in real time hours here in the US.
About Absolute Exhibits
Absolute Exhibits, established in 2000, rents and sells large custom exhibits at over 300 shows in the USA and in countries around the world. Absolute Exhibits is dedicated to providing distinctive marketing settings as well as pre-and-post show and event marketing and support services for our clients. At Absolute Exhibits every aspect of the exhibition project is handled using in-house resources and every question is answered in-house, as well. Absolute Exhibits is a true one-source exhibit house.