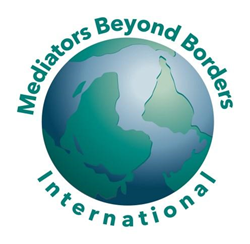 "We can change the world through mediation, one place at a time." Prabha Sankaranarayan, MBB President
Bucharest, Romania / Arlington, VA (PRWEB) April 09, 2015
Hundreds of mediators and peacemakers from 40 countries will descend on Bucharest, Romania for the 7th Annual Mediators Beyond Borders International (MBB) Peace Congress during the week of April 20-25, 2015. With the theme of "Dangerous Dialogues and Courageous Conversations", the Congress is held at the J.W. Marriott Hotel in Bucharest. The week begins with the three-day institute for 25 Southeast Asian Women Community Leaders April 20-22, supported by an Indiegogo Campaign (click here for more information: http://igg.me/at/itibucharest/x/3958557). The Plowshares Institute will conduct a special training on April 23, and a comprehensive conference will take place April 23rd, 24th and 25th. The event will address multi-disciplinary perspectives on mediation and conflict transformation, social cohesion, capacity building and social responsibility. The Congress features world-renowned leaders in peacebuilding, including Nobel Laureate Archbishop Emeritus Desmond Tutu, Imam Muhammed Ashafa, Mary Montague, Pastor James Wuye and Shadia Marhaban. For a complete agenda and to register, visit http://www.mediatorsbeyondborders.org.
The three-day institute was created to support women like Jurma, a mother of three, who watched helplessly as her hometown of Jolo, Philippines burned to the ground in a conflict between the Philippine armed forces and the Moro National Liberation Front (MNLF). At that moment she committed herself to working to change hearts and save lives. Years later she witnessed the war in mainland Mindanao with the Moro Islamic Liberation Front (MILF), the "Zamboanga siege," and other armed encounters where women and children were also victims. Along the way she founded the Tarbilang Foundation in Bongao, Tawi-Tawi, Philippines. "The work done by Jurma and others is inspirational and we are pleased to offer this forum help support their efforts," said Prabha Sankaranarayan, President of MBB and internationally-known peacemaker.
Guests will share experiences, foster trust and understanding through deep dialogue, train and build capacity to reduce violence and inter-ethnic conflict in hot spots around the world, especially those suffering from ongoing violence or recovering from the aftermath of genocide and civil war. "We can change the world one place at a time," added Sankaranarayan. "Learning to build capacity and improve communications -- which is at the heart of all conflict -- sharing concepts of dispute mediation, collaborative problem solving and bias awareness is at the heart of our trainings."
Mediators Beyond Borders expresses sincere gratitude for the partners & sponsors that made the 7th Annual Peace Congress possible: STARS Romania, Plowshares Institute, Avincis Wineyard, Pepperdine University Straus Institute for Dispute Resolution, Miha Eminescu Bookstore, Dana Moldovan, Nina Dodge Abrams, Drum Café, ADR Services Inc., Alice Yardum Hunter, American Institute of Mediation, Dominican University, Joan Goldsmith & Ken Cloke, Max Factor III, Quinnipiac University School of Law Center on Dispute Resolution, Rotary Club of Newbury Park, Southern California Mediation Association, and The Connecticut Council for Non-Adversarial Divorce.
Mediators Beyond Borders International is a non-profit 501(c)(3) corporation based in Arlington, Virginia. The engine of MBB is its 200+ volunteers in North and South America, Europe, Asia, the Pacific and Africa. By local invitation, multidisciplinary teams jointly design and implement projects with local partners to increase local abilities to heal from severe conflict; reconcile communities; and prevent, manage and transform conflict sustainably into the future. Currently MBB has active projects in six countries: Colombia, Ecuador, Israel, Kenya, Nepal, and Sierra Leone. For more information, visit http://www.mediatorsbeyondborders.org.
~End~