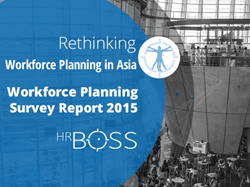 Across the board, business leaders want to get strategic about their workforce but, quite simply, they don't have the right tools at hand to do so. HRBoss helps solve that problem.
Singapore (PRWEB) April 09, 2015
HRBoss, a workforce BI and employee analytics Cloud software provider, today announced the publication of a whitepaper report, "Rethinking Workforce Planning in Asia: Workforce Planning Survey Report 2015'. With more than 700+ participants, the study is the most comprehensive market analysis to-date, revealing the challenges faced by organizations in workforce planning and Human Capital across the region.
A sample of takeaways from the report include the following:

Only 2% of companies are happy with current workforce planning processes
Employee-related information is out of reach: 77% use more than 3 different sources of data for workforce planning and more than half are unable to access the information they need to accurately predict future talent gaps.
Human Capital data is stuck in 'Excel Hell': 2 out of 3 organizations are still dependent on spreadsheets to manage workforce planning
Dirty, disparate employee data sources: Top barriers to effective workforce planning include data inaccuracies, challenges with data aggregation and overly complex planning processes
Bernie Schiemer, CEO & Founder of HRBoss, commented, "The report provides a damning insight into the frustrations shared by C-level professionals when it comes to getting their hands on employee-related information and then using it to make informed decisions about their organization's most valuable asset: their people. Across the board, business leaders want to get strategic about their workforce but, quite simply, they don't have the right tools at hand to do so. HRBoss helps solve that problem. "
The whitepaper report, which is now available for free download at hrboss.com, is based on a study of 712 business leaders from Singapore, Malaysia, Vietnam, Indonesia, China and Japan. Conducted over a 4 month period from late 2014 into 2015, the goal of the study was to determine if enterprises in Asia have what it takes to be strategic when it comes to workforce planning – pivoting on the questions, 'How do business leaders carry out their workforce planning projects? What are their topmost workforce concerns? Are the barriers to workforce planning parallel across countries in Asia?' The resulting report provides the first glimpse of into the region's current workforce planning practices, as well as the developing trends for 2015.
Schiemer continued, "Based on the insights surfaced in this report, organizations rely heavily on workforce planning to support business decisions, improve talent management and optimize cost savings. Even though an overwhelming 98% of respondents in Asia believe that the Workforce Planning is the #1 key ingredient for organizational success, a whopping 88% are stuck at rookie's level when it comes to strategic workforce planning. We're here to bridge that gap and make better workforce planning a reality for any organization that wants to get strategic about their data, their people and their business in 2015".
The publication of the survey whitepaper coincides with HRBoss' launch of a 7 day free trial of their flagship workforce planning and analytics platform. The multi-award winning Cloud platform is now available in English, Japanese and Chinese for fully-featured trials and with pricing plans starting at $195 USD. The SaaS workforce planning platform, recently awarded 'Best Innovation' at HRoot HR awards in China and 'Best International SaaS' at the US-based Cloud Awards, combines dynamic org charts, geospatial maps, analytics and dashboards to make workforce planning a future-focussed, collaborative process.
Schiemer remarked, "The report makes one thing very clear: organizations are not leveraging on workforce data and analytics to guide decision-making and transformation. Workforce data exists in every far-flung area of an organization, from skills and leadership, through to tenure and payroll. It is only by blending these multiple data points and combining the right analytics with the right BI tools, that it's possible to accurately identify and act upon Talent shortfalls."
Schiemer continued, "When it comes to employee-related information we've seen an explosion in data volumes, data sources and a constantly evolving workforce. Organizations need speed, robust data-governance and end-user self-service from their workforce analytics and planning platforms. That's where HRBoss comes in. We put a new twist on the capabilities of the legacy providers and inject it with the speed and innovation of desktop discovery products. The end result is a workforce planning platform that's enterprise-ready and affordable for everyone, ready-to-try-then-buy from day 1. No long-implementations or blown out budgets. It's workforce BI without the BS."
The Workforce Planning Survey Report 2015 is available for free here. For a free trial of the HRBoss workforce planning platform, access: hrboss.com
About HRBoss
HRBoss is Asia's leading provider of workforce planning analytics software. There are 3 SaaS products in the HRBoss suite: HiringBoss, the ATS recruiting platform for corporate HR | EmployeeBoss, the workforce Big Data platform for the C-Suite | StaffingBoss, the CRM/ATS for recruiting firms.
Born in Asia in 2011, HRBoss is headquartered in Singapore and maintains presence across the globe with offices throughout the Asia-Pacific region in 6 countries and the USA today. All HRBoss Cloud solutions are intuitive, highly-configurable and are supported locally on-the-ground across Asia. Customers include world-leading organizations and government agencies, including Nissan, Audi, Allergan, Changi Airport Group, Metlife, the Monetary Authority of Singapore (MAS), and the Economic Development Board (EDB) of Singapore.
Recent accolades include: Best Software-as-a-Service, The Cloud Awards 2014, USA |International Tech Company of The Year, IBAs 2014, Global |Best Innovation, Best HR Service Providers 2015, Greater China |Favourite Company of the Year, People's Choice Stevie Awards 2014, Asia