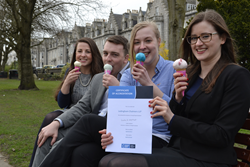 The Investors in Young People Award has been an inspiration and focus for our continuous work with young people as they forge their careers with us.
Aberdeen, Scotland (PRWEB UK) 10 April 2015
A full service legal firm has become the first law practice in Scotland to gain a prestigious employer award.
Ledingham Chalmers LLP has been recognised for its commitment to people in the early stages of their career by gaining the accreditation, Investors in Young People Award.
The firm employs 170 people across four offices in Aberdeen, Edinburgh, Inverness and Stirling.
Summer internships and legal traineeships are sought-after largely due to the full service capability of the firm.
Ledingham Chalmers LLP advises on a range of legal issues in life and business with partners specialising in areas such as agriculture, construction, employment, oil and gas, private client and renewables.
Wendy Anderson, head of human resources at Ledingham Chalmers LLP, said: "Investing in young people is about much more than providing employment and training. At Ledingham Chalmers we take time to understand and appreciate the contribution young people can make to the firm and consider how the firm can best support them. We have found this approach to be mutually beneficial and has enhanced company culture.
"The Investors in Young People Award has been an inspiration and focus for our continuous work with young people as they forge their careers with us."
Peter Russian, chief executive of Investors in People Scotland commended the firm's accomplishment. He said: "Achievement of the IIYP award is testimony to the fact that Ledingham Chalmers recognise that young people are a driver to future business and a means of bringing new skills into the company.
"As the first law firm to achieve IIYP accreditation, I envisage that many more firms will wish to follow in the footsteps of Ledingham Chalmers by working with the IIYP framework."
Jennifer Young, chairman of the firm said: "Ledingham Chalmers is hugely committed to supporting and encouraging the next generation of employees at the firm across all legal service teams and every area of expertise including administration, regulatory compliance, finance & accounts, legal support and client care."
ENDS
More about Ledingham Chalmers LLP:
Ledingham Chalmers LLP is a regional law firm with a national reputation. With offices in Aberdeen, Inverness, Edinburgh and Stirling, it is one of the largest full service firms in the north and north-east of Scotland. Ledingham Chalmers believes in sustaining long-term client relationship and provides legal assistance for numerous aspects of life and business. Ledingham Chalmers has a strong focus on business sectors which drive the regional economy and partners specialise in the agriculture, fishing, oil and gas, renewables, construction and leisure industries. The Edinburgh office houses a niche litigation practice supporting public authorities and insurers. The opening of an office in Stirling has allowed the firm to expand its activity in the rural sector and, in particular, farming, food, fish and forestry.