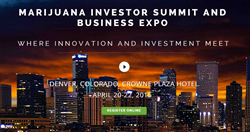 San Francisco, CA (PRWEB) April 14, 2015
Heliospectra AB (OTCQB: HLSPY, FIRSTNORTH: HELIO), a world leader in intelligent lighting technology for greenhouse cultivation and plant research, is pleased to announce that it will be an exhibitor and presenter at the upcoming Marijuana Investor Summit. The event will take place on April 20-22 at the DIA Crowne Plaza in Denver, Colorado.
The country's top cannabis entrepreneurs, business professionals and lawmakers will join industry veterans at the nation's premier cannabis industry investor conference, providing investors with a comprehensive understanding of this rapidly growing industry and insight on how to invest in it from seed to sale.
Chris Walker, General Manager USA of Heliospectra, will speak on Tuesday, April 21st at 9:45am, on the topic of disruptive cannabis technologies and the opportunities they provide for investors, entrepreneurs and operators in cannabis companies.
For further information regarding this event please click on http://www.marijuanainvestorsummit.com.
About Heliospectra AB
Heliospectra AB (publ - listed on NASDAQ OMX First North HELIO ISIN SE0005933082 as well as North American ADR OTCQB: HLSPY Cusip: 423281104) (http://www.heliospectra.se) specializes in intelligent lighting technology for plant research and greenhouse cultivation. Heliospectra products are based on in-depth knowledge in plant physiology and photosynthesis along with a unique way to utilize modern LED technology. After six years of development in Sweden, the company has now begun to expand into the international market. The company has raised more than $ 15 million in venture capital and has received more than $2.6 million through academic scholarships and grants. It has also received numerous awards for its forward thinking technology. Principal owners: Weland Steel http://www.welandstal.se, Swedish Industrial Fund http://www.industrifonden.se, Midroc http://www.midroc.se, Wood & Hill Investment http://www.whab.se
Contact
Investor Relations:
Michael Swartz
Analyst
Viridian Capital & Research, LLC
212-333-0257
mswartz[at]viridiancr[dot]com
Staffan Hillberg, CEO
Heliospectra AB
+46-708-36 59 44
staffan.hillberg[at]heliospectra[dot]com
Lars Sjögrell, Press Contact
Heliospectra AB
+46-702-69 53 00
lars.sjogrell[at]perspective[dot]se
Chris Walker, General Manager USA
Heliospectra AB
520-971-1031
chris.walker[at]heliospectra[dot]com